After Aliso
How the worst gas leak in US history forced Angelenos to rethink their energy supply
Published Oct. 23, 2019
The Aliso Canyon gas storage field is abutted by the greenery and homes of the Porter Ranch suburb. (Chava Sanchez/LAist)
What happened at Aliso Canyon?
Four years ago, on Oct. 23, 2015, a strong, rotten-egg smell permeated Porter Ranch, an upscale suburb in the north end of the San Fernando Valley.
As the stench spread, residents became uncomfortably aware they had been living next to a vast underground gas storage field, the Aliso Canyon Natural Gas Storage Facility.
A well had ruptured and was leaking methane and other chemicals into the air.
---
BEFORE & AFTER: Slide the arrows below to contrast a photo taken before the gas leak began and infrared imagery afterward.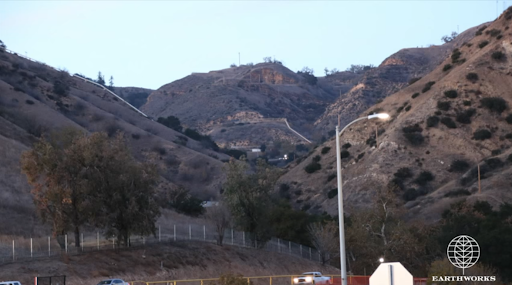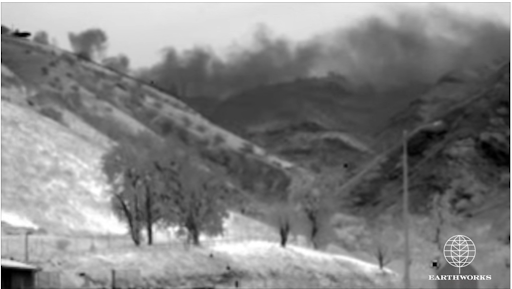 Source: Earthworks
---
Over the next four months, the gas storage field, owned by Southern California Gas Company, would become the source of the nation's largest-ever uncontrolled natural gas leak.
Porter Ranch and nearby neighborhoods became ghost towns as some 8,000 families left to avoid the smell and potential health problems.
Two schools were relocated and thousands moved to hotels and rental housing outside the area.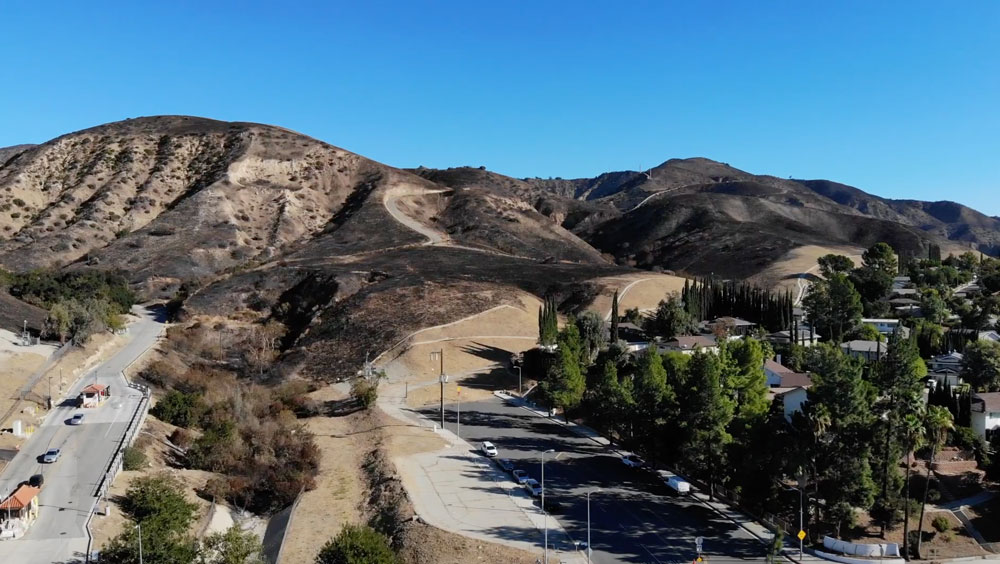 Porter Ranch's proximity to Aliso Canyon meant its residents' lives were upended when a well at the gas storage field began leaking gas in 2015. (Chava Sanchez/LAist)
Ultimately, not only would it disrupt the lives of these residents, it would also disrupt long-held assumptions about L.A.'s energy supply.
Aliso Canyon: By the Numbers
AREA: Nearly 6 square miles of the Santa Susana Mountains.
SIZE: Second largest gas storage field in the U.S.
CAPACITY: Up to 86 billion cubic feet (BCF) of gas when full.
USAGE: 3 billion cubic feet a day in L.A. area, more on days with extreme temperatures.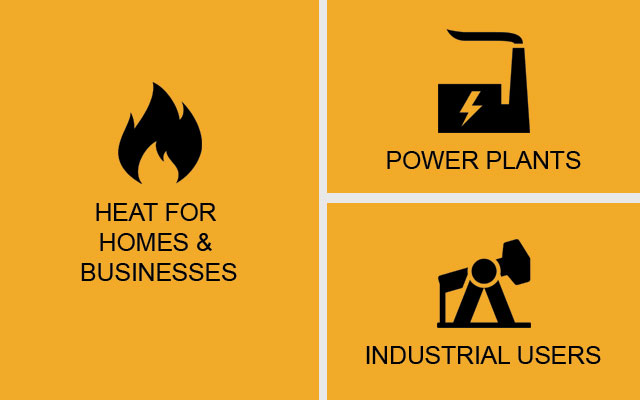 Icons by kiddo, Andrejs Kima via The Noun Project
Half goes to consumers and businesses who use it to heat their homes, stores and offices.
Roughly one-quarter is used by gas-fired power plants to produce electricity.
Another quarter is used by big industrial users like refineries and hospitals who buy their own gas and move it on the SoCal Gas network of pipes.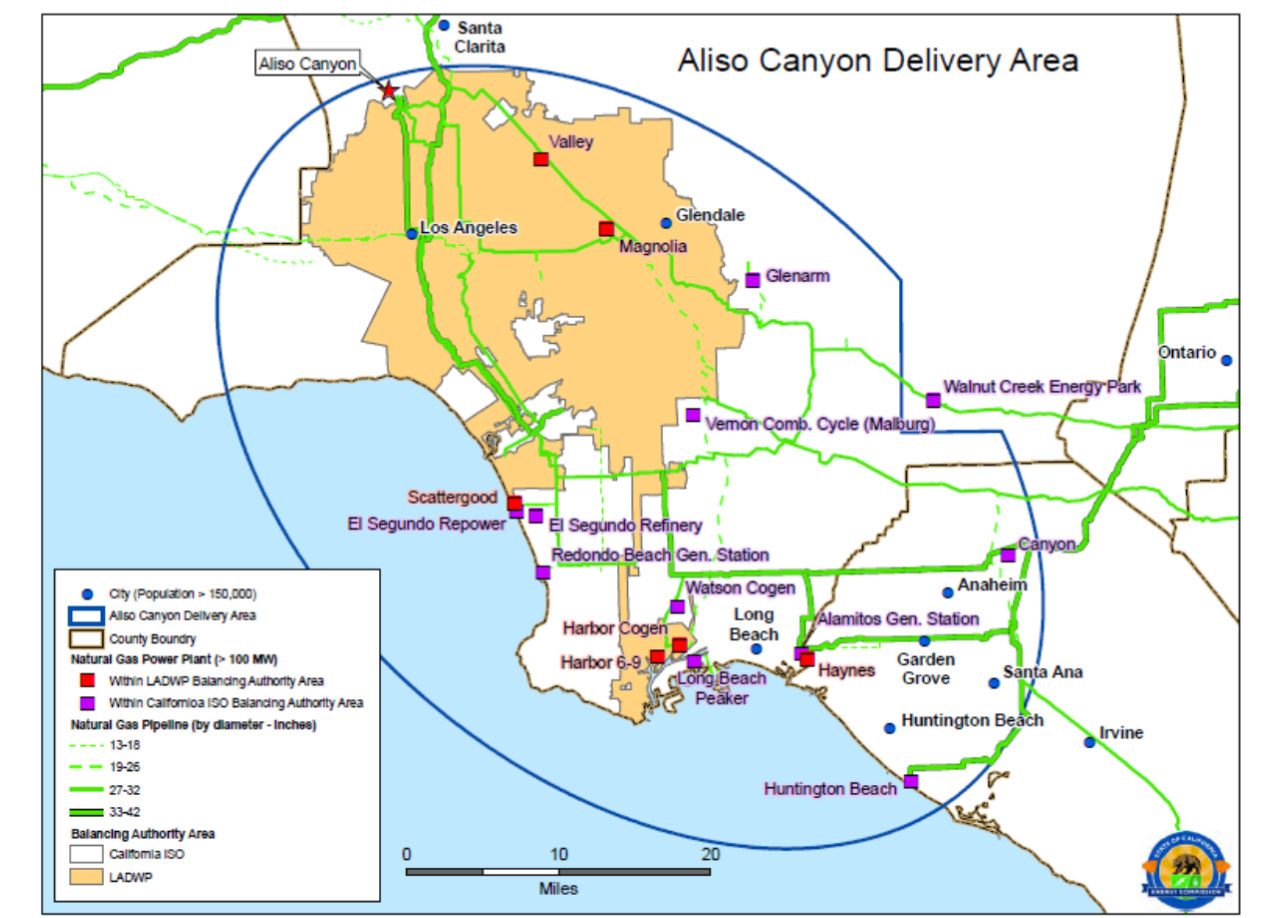 Source: California Energy Commission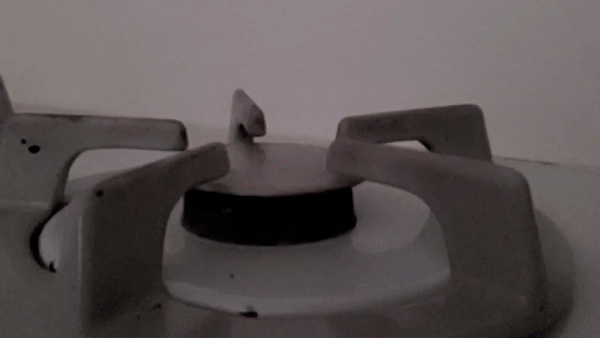 (Steve Holtzman for LAist)
LA's Love Affair with Gas
In the years before the Aliso blowout, natural gas was considered to be a safe, dependable energy source for the region.
It was viewed as a "bridge" fuel for the decades-long transition from coal to cleaner, renewable fuels like solar and wind power.
This is how SoCal Gas explains it on its website: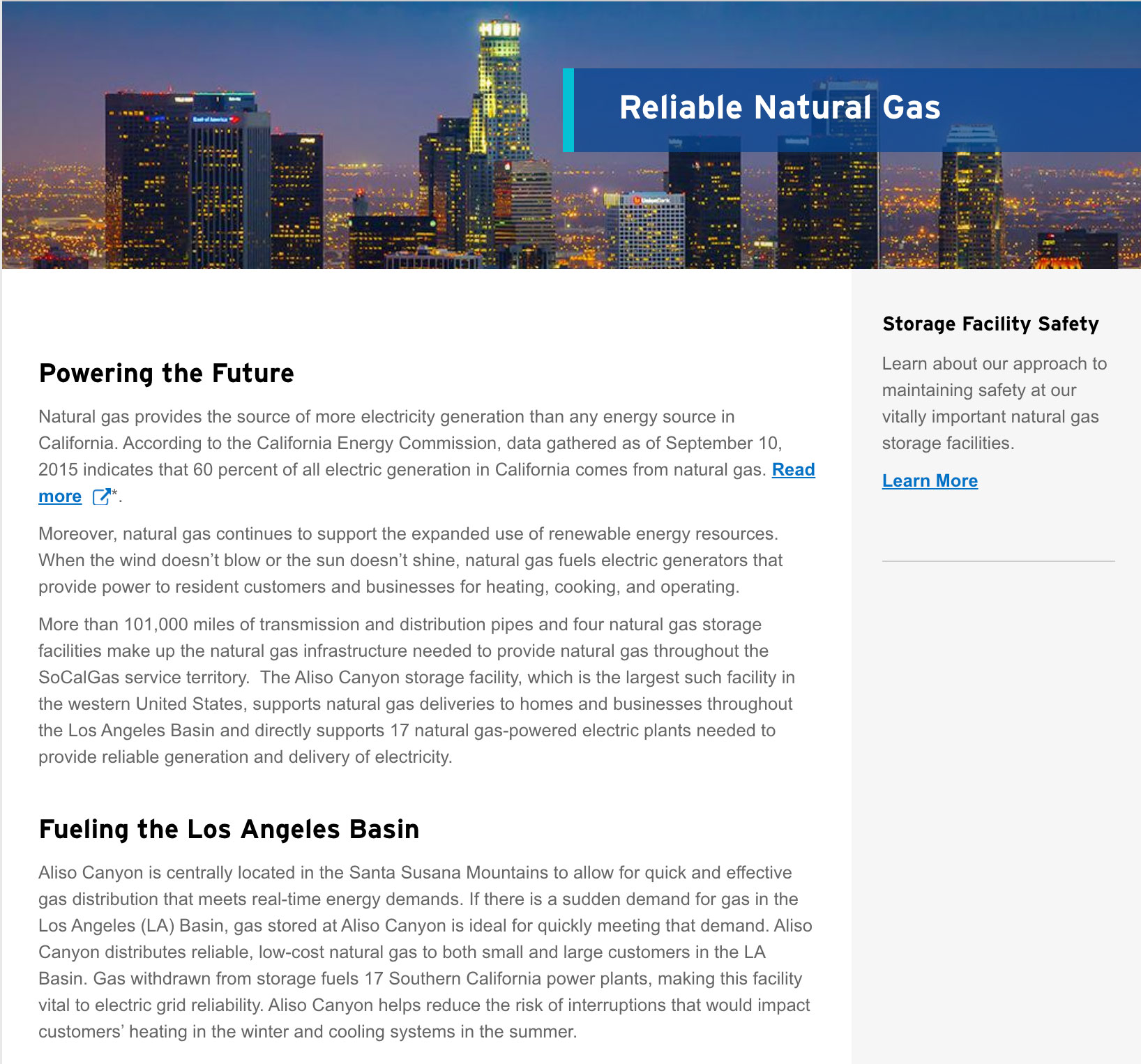 Source: Southern California Gas Company
Gas has its advantages:
While still a fossil fuel, it is cleaner than coal, but not as clean as renewable energy.
It's domestically produced, so it doesn't have to be shipped in from overseas.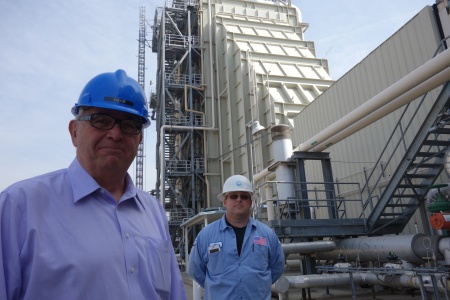 Fred Fletcher (left), former general manager of the Magnolia Power Project, stands with another worker at the natural gas-fired power plant in Burbank. (Sharon McNary/LAist)
Gas is available for sudden peak demands for power. You can fire up a gas-burning, electricity-generating plant very quickly, get the added power you need on a hot day to run air conditioners, and then shut it down.
Unlike solar and wind energy, which stops when the sun goes down or the wind calms, gas can be reliably stored for use as needed.
And, crucially for Los Angeles, the region has had plenty of room to store the gas because of its oil-rich history.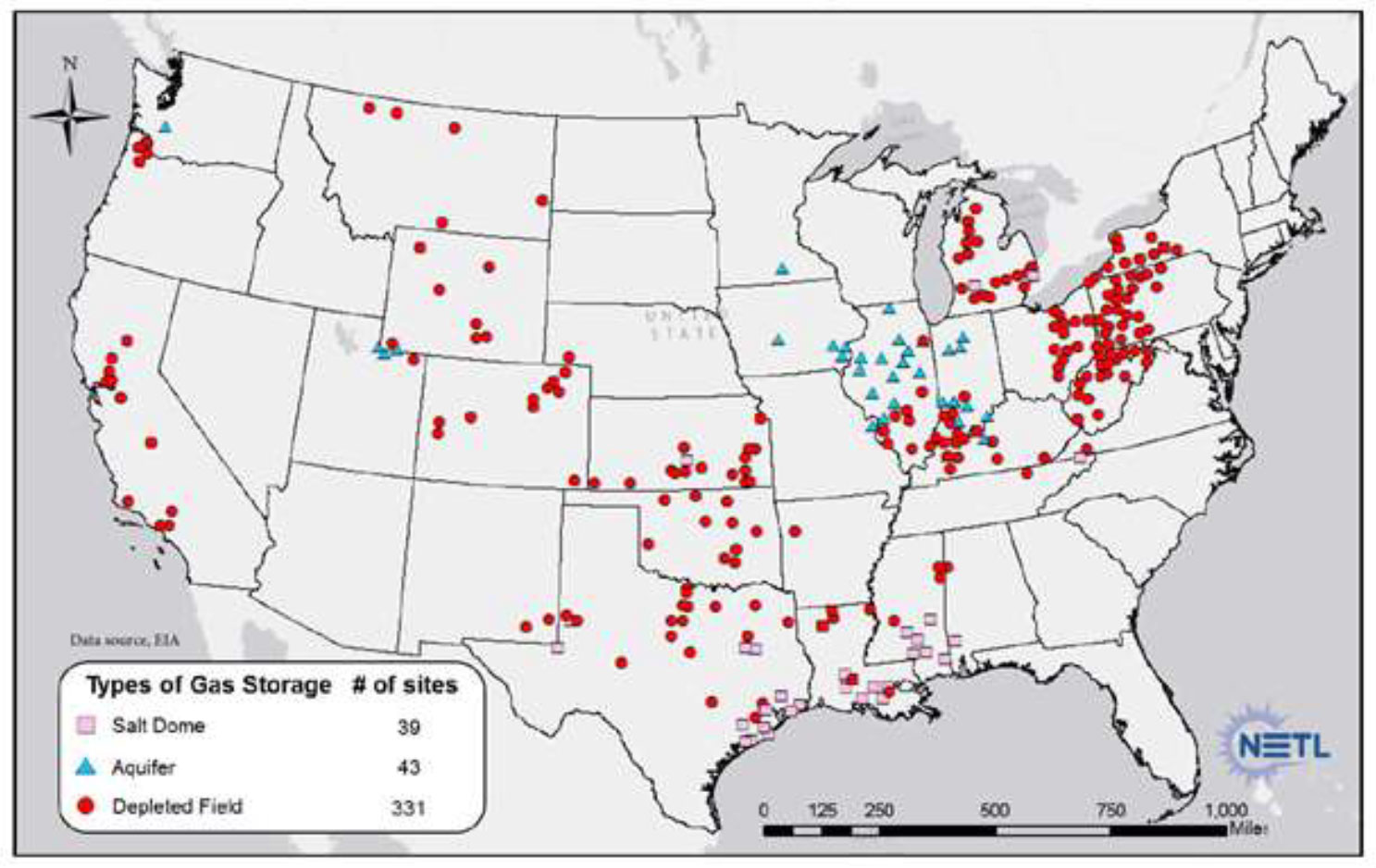 Source: National Energy Technology Laboratory
How LA Stores Its Gas
In urban centers across the U.S., gas is sent to homes and workplaces in underground pipes, which also double as storage.
But in L.A., we are also able to store gas underground in depleted oil fields.
Crude oil in underground rock formations underlie portions of Southern California, and wells were installed across the region to extract it beginning in the 1800s.
When the oil ran out decades later, the giant underground rock formations remained. So did the wells.
In the mid-1970s, some of the oil wells in the Santa Susana Mountains were converted to force natural gas down into the underground rock formations, creating the Aliso Canyon gas storage field.
---
(Interesting fact: The gas is held under more than 3,000 pounds of pressure per square inch (psi). That is about 100 times more pressure than the air you pump into your car's tires.)
Natural gas storage: ~ 3,000 psi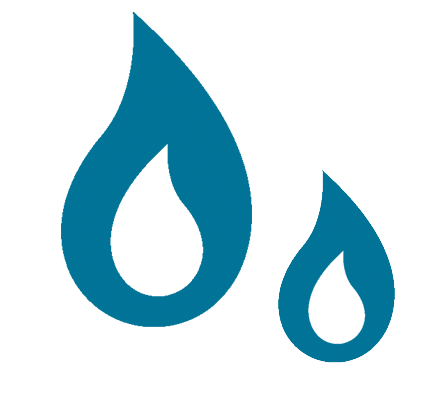 Icons by Thomas Uebe, jon trillana via The Noun Project
---
Southern California has five such fields, all operated by SoCal Gas. They are at Playa Del Rey, Honor Rancho near Valencia, La Goleta near Goleta, Montebello (which was forced to close) and Aliso Canyon.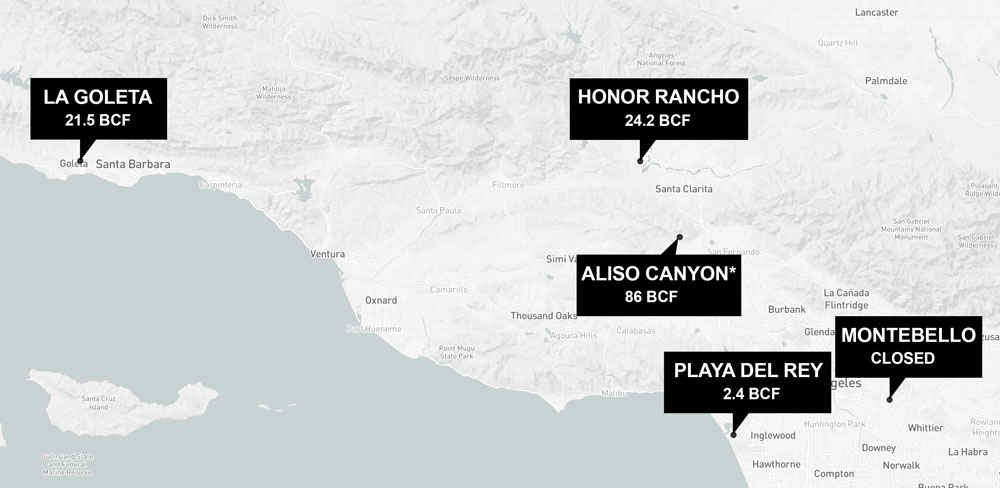 *NOTE: Post-blowout, the Aliso gas field is limited to 34 billion cubic feet (BCF).
Source: California Dept. of Conservation
1939 - 1973
Oil wells are drilled in the Santa Susana Mountains. The oil field is eventually developed by Getty Oil Company. It's within L.A. County, just north of the city of Los Angeles boundary and the future suburb of Porter Ranch.

1973
The depleted oil field is sold to Southern California Gas Company and its many wells are converted to store gas.

1980s - 2015
Additional wells are added over the years. The Aliso Canyon gas field becomes the second largest, by volume, in the U.S. and the biggest west of the Mississippi.
Underground gas storage has specific benefits.
It's readily available, so it can quickly be added into the gas distribution system to augment the gas that moves slowly in pipelines underground.
Storing gas is cost effective. Gas can be bought cheaply in summer when demand from the rest of the nation is low, and stored until it's needed in the winter.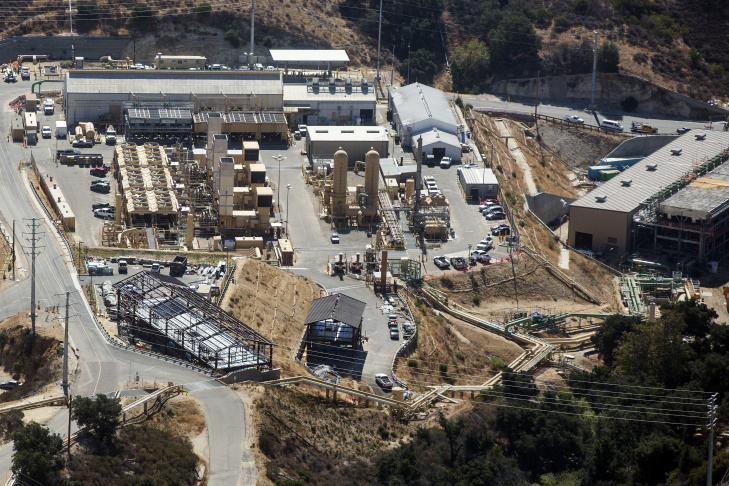 An aerial view of the SoCal Gas Company's Aliso Canyon Oil Field and Storage Facility in 2016. (Maya Sugarman/LAist)
In Gas We Trust(ed)
Gas, and the ability to store it underground, worked so well and for so long for the L.A. Basin that the region became very reliant on having a continuously available supply of gas.
But while the region was quickly expanding its population and demand for gas, there was no contingency plan for an interruption in gas storage.
L.A. officials were confident we were energy secure -- that is, we would always have enough gas stored to fuel our power plants.
Even the National Laboratories and California's Public Utility Commission saw L.A.'s gas storage system as super-reliable.
Aliso's gas was actually considered as the backup solution in case a big earthquake broke open the large pipelines that bring gas to the L.A. Basin.
And then the blowout happened.
Video from the early days of the blown-out Aliso Canyon natural gas well near Porter Ranch. This video, from late November 2015, shows what became the nation's largest-ever natural gas leak. (California Division of Oil, Gas and Geothermal Resources)
The Reckoning
During the blowout, gas leaked non-stop for 118 days. By the time the leak was stopped in February 2016, 109,000 metric tons of methane was lost. That's about the emissions that 500,000 cars would put out driving around Los Angeles for a year.
In the aftermath, the state limited the volume of gas to one-third of the field's full capacity to prevent another leak. SoCal Gas was only allowed to withdraw gas as a last resort, to prevent a loss of gas service to homes or a power blackout.
The once-plentiful gas supply was now restricted. SoCal Gas and California energy authorities had to find ways to stretch what was available.
SoCal Gas ran campaigns asking people to conserve their gas use, highlighting the possibility of blackouts if gas-burning plants couldn't get enough fuel.
State regulators ordered SoCal Gas and Edison to accelerate rebate programs helping low-income households replace old appliances like furnaces and water heaters, to prevent gas being wasted through leaking or inefficient gas appliances.
Some gas-burning power plants in the L.A. Basin had their supply of gas cut off or constricted at times when gas was scarcest, to save the supply for homes and workplaces.
Meanwhile, Porter Ranch residents, angry at the disruptions to their lives and claiming they were suffering health effects from the blowout, began campaigning to permanently close the gas field.
Activism over gas was high: Protesters blockaded a truck at the entrance to the Aliso Canyon gas field. Eighteen people were arrested.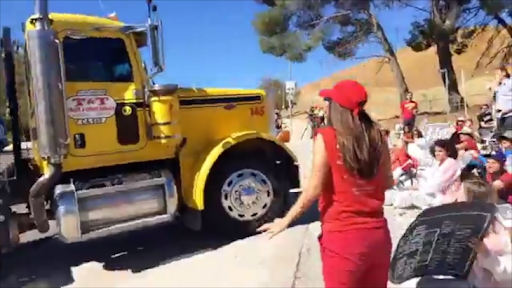 (Courtesy Save Porter Ranch)
Another group of protesters regularly took their message to the South Coast Air Quality Management District.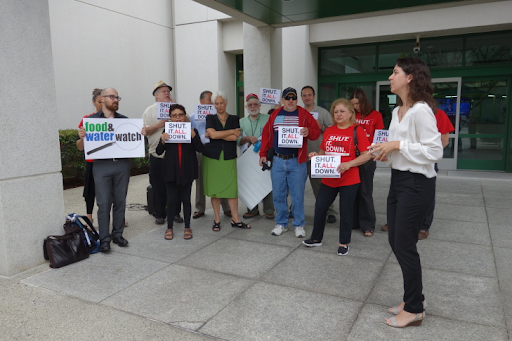 Members of Save Porter Ranch, Food and Water Watch and Consumer Watchdog gathered Aug. 26, 2016, at a state workshop on energy reliability to call for the Aliso Canyon Natural Gas Storage Facility to be shut down. (Sharon McNary/LAist)
Dozens of Porter Ranch and other residents took over a public meeting in February 2017 at which state officials were announcing the re-opening of the now-renovated gas field.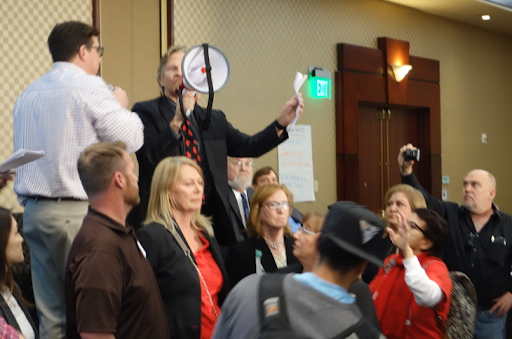 Matt Pakucko, president of Save Porter Ranch, uses a bullhorn to disrupt and take over a meeting of state regulators in February 2017. (Sharon McNary/LAist)
Re-opened, but reduced
Despite the protests, on July 31, 2017, SoCal Gas was cleared by the California Public Utilities Commission to resume injecting gas underground at Aliso Canyon.
However, the amount was severely limited and withdrawals were permitted only as a last resort. Those limits on withdrawals have eased some in recent months.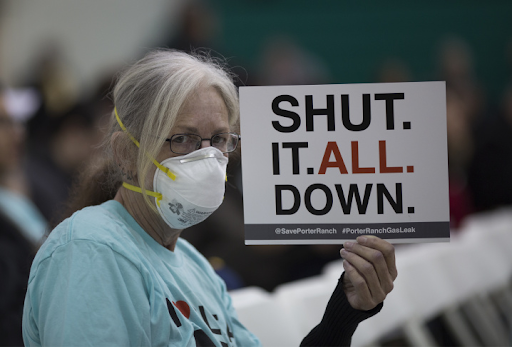 There have been many protests of the Aliso field's continuing operation. (David McNew/Getty Images)
Of 115 original wells shut down during the blowout, 52 were overhauled and returned to service and by April 2019, 66 wells were operating.
But industrial users like power plants and refineries had already moved on.
Previously, gas users would park their supplies of gas at Aliso, and pay SoCal Gas for the storage space. Post-blowout, industries were required by state energy authorities to be far more accurate in the amount of gas they ordered daily, because they no longer had Aliso to draw on as a buffer.
This better "balancing," as it's called has helped wean industries off massive storage locations like Aliso, potentially setting the stage for closure.
L.A.'s energy policy makers also began to realize that they may have depended too heavily on a potentially risky fossil fuel.
While underground gas storage had enabled major development within the L.A. Basin, natural gas had turned out to be not as safe or as reliable as people had thought.
Angelenos started moving away from natural gas.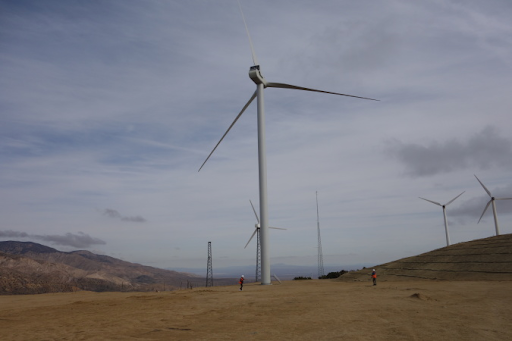 This wind turbine near Mojave is part of the Clean Power Alliance's portfolio of clean energy aiming to replace gas. (Sharon McNary/LAist)
The Big Turn Away from Gas
Policymakers in L.A. had been working to move the region to cleaner energy already. But the interruptions in the gas supply after the blow out gave them political cover to move faster.
Both the city and county of Los Angeles released aggressive new climate goals in 2019, promising a move away from gas and other fossil fuels.
L.A. Mayor Eric Garcetti ordered the Los Angeles Department of Water and Power to not replace two big gas-burning plants along the coast.
The state's legislature passed Senate Bill 1477, a law that requires California's Public Utilities Commission to develop programs to eliminate the use of natural gas in buildings.
LADWP created its first mass storage, utility-scale battery for solar power in the Mojave Desert.
Southern California Edison customers were given the option of buying electricity at lower prices from the Clean Power Alliance co-op, which uses more solar and wind energy. The state law permitting such co-ops had existed since the early 2000s, but it was only in 2017 -- after the Aliso disaster -- that the L.A. County Board of Supervisors established one.
Turning Up the Heat on Gas
As Los Angeles moves toward cleaner forms of energy, residents may see community-located solar plants and have more of their energy come from sun, wind and geothermal sources.
But there is a battle ahead as the natural gas industry tries to hold onto its market share.
SoCal Gas is pledging to replace 20% of its gas with so-called "renewable" natural gas -- or gas that's produced from food waste, farms, landfills and even sewer systems.
(Southern California Gas Company)
(Opponents say adopting "renewable" natural gas would extend the use of greenhouse gas-producing fossil fuels into the future and displace cleaner forms of energy.)
As part of a settlement stemming from the Aliso Canyon blowout, SoCal Gas agreed to pay $119.5 million to build up biogas pipelines, so methane captured at Central Valley dairies can be commercially sold.
The Blowout: We Finally Found Out What Happened
In May 2019, the official cause of the blowout was revealed in an independent report. It said the leaking well lacked basic protection from groundwater, which led to corrosion, eventually causing it to fail.
The report said SoCal Gas could or should have done things to prevent the leak, detect it earlier, respond to it better and shorten the four-month duration of the blowout.
Before the blowout, SoCal Gas would move gas in and out of the storage field using both the center tube of its wells and the donut-shaped space between the center tube and the walls of the well.
That can cause gas to corrode the casing, but it was commonly done. California has now outlawed the practice.
The Not-So-Bright Future of Gas Storage Fields
ALISO CANYON: In 2017, former Gov. Jerry Brown in 2017 called for Aliso to close within 10 years, but it will be up to Gov. Gavin Newsom, who has also called for its closure, to follow through.
HONOR RANCHO: SoCal Gas operates its Honor Rancho underground gas storage field in Valencia on land owned by Los Angeles County. It's likely the county will be making decisions about whether, or when, to shut it down.
PLAYA DEL REY: L.A. city councilman Mike Bonin has asked the city council to review a proposal to put the small gas storage field under the microscope. He wants a report on whether the SoCal Gas-owned field is being operated in compliance with all local, state and federal regulations.
* * *