(Dan Carino for LAist)
'I Would Dry Up And Die'
5 Key Takeaways About 'Illegal Boarding Houses' in the San Gabriel Valley
Published March 11, 2020
As a Chinese national studying journalism at USC in 2019, I wanted to learn more about the Chinese immigrant community in the L.A. area. It didn't take long for me to learn about the overcrowded, squalid, dangerous and illegal boarding houses that so many of my countrymen live in, especially in the San Gabriel Valley, which has one of the highest concentrations of Chinese people in the U.S. So I set out to learn more.
I spent about nine months analyzing data pulled from housing and code enforcement records; I visited boarding houses throughout the San Gabriel Valley, first as a graduate student and more recently while working with the investigative team at KPCC/LAist. I conducted more than 60 interviews — many in Mandarin — to get a better understanding of how tenants are living, who is benefitting from their living conditions and why substandard conditions persist despite vows by city leaders to crack down.
Here are five takeaways from my reporting.
1. THE SAN GABRIEL VALLEY IS FULL OF CHINESE IMMIGRANT 'BOARDING HOUSES'
Thousands of Chinese immigrants live in overcrowded, unsanitary, and potentially deadly conditions in the San Gabriel Valley.
They stay in these places for days, weeks or months at a time. Boarding houses are not necessarily run out of actual houses. In fact, most appear to be run out of units in apartment complexes, condominiums, single-family homes and even converted garages. In the community, they're often known as residential motels, rooming houses or family motels.
I investigated conditions at boarding houses in four San Gabriel Valley cities — Monterey Park, San Gabriel, Alhambra and Rosemead. All have high numbers of Chinese immigrants living at the bottom rung of the housing market. Together, those cities have opened at least 650 boarding house-related cases since 2013. Many officials and experts believe the number of unreported units is far higher.
Many boarding house tenants live among rats, roaches and dangerous conditions such as faulty wiring or missing smoke detectors — observations backed up by public records. Some small, two-bedroom units were set up to sleep as many as 13 people, a violation of local and state housing codes and laws and a hazard in the event of a fire or earthquake.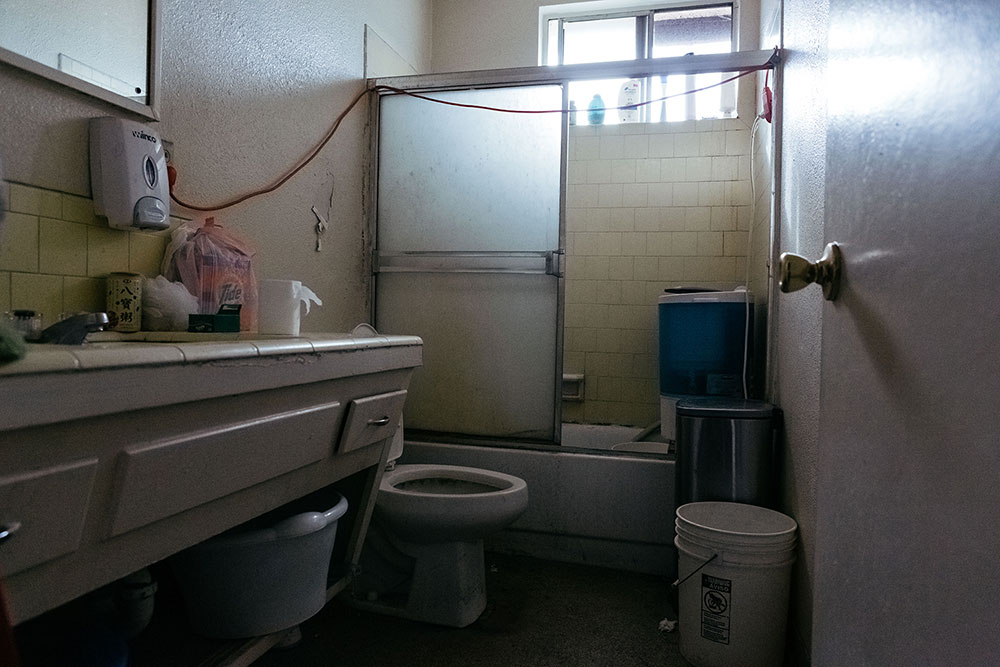 Makeshift electrical wiring in the bathroom of a Monterey Park boarding house, shared by 10 people. (Chava Sanchez/LAist)

Who lives like this? The boarding houses are mainly occupied by low-skilled and low-wage Chinese workers who are new to the U.S. To get here in the first place, they promise to pay up to $60,000 to "travel agents" or "snakeheads" — the Chinese equivalent of Mexican "coyotes" — who help them get visas and transport them to the United States. The immigrants come here for financial opportunity in the U.S.

"We are the bottom level in China and still the bottom level in America," one boarding house tenant told me. "I have never thought about human rights. I am just like a little grass, trying my best to get some sunshine and some rain and dew, struggling to survive. I can still survive here. I would dry up and die in China."

2. MONTEREY PARK HAS THE MOST BOARDING HOUSE CASES IN THE SAN GABRIEL VALLEY

I was able to review records from a period between 2013 and 2019 and found that in Monterey Park:
The city received nearly 700 complaints about possible boarding houses
At least 400 boarding house-related cases have been opened
Those cases were identified at about 300 properties
Monterey Park's main thoroughfares, especially Garvey, Garfield and Atlantic avenues, have street poles and store windows covered with advertisements in Chinese for cheap rooms to rent in boarding houses, usually $10 to $20. Typically, the people offering the rooms are known as second-hand landlords, meaning their names are on the lease, and they sublet to a revolving door of tenants.
Some second-hand landlords leave business cards at shops around the community and post advertisements on WeChat and other Chinese-language websites, such as ChineseInLA.com, usalifeonline.com and 58.com.
3. A WELL-KNOWN BOARDING HOUSE BUILDING IS CONNECTED TO A PROMINENT LOCAL BUSINESS
One building I visited several times, on Lincoln Avenue in Monterey Park, is co-owned by an entity called South Fremont 8 Investment Inc., according to county assessor's data. According to California Secretary of State records, that company is registered to Curt Wang, the founder and owner of the well-known real estate company, KoTai Realty. According to public documents and second-hand landlords at the property, Wang is the property manager.
Since 2012, Monterey Park officials have inspected the building no fewer than 13 times, according to records obtained by KPCC/LAist. A Sept. 30, 2016 email, sent from city officials to Wang amidst a flurry of inspections and citations, lists 85 violations in the building, including "excessive mattresses" or "excessive beds" in at least eight units, as well as mold, roaches and exposed electrical wiring.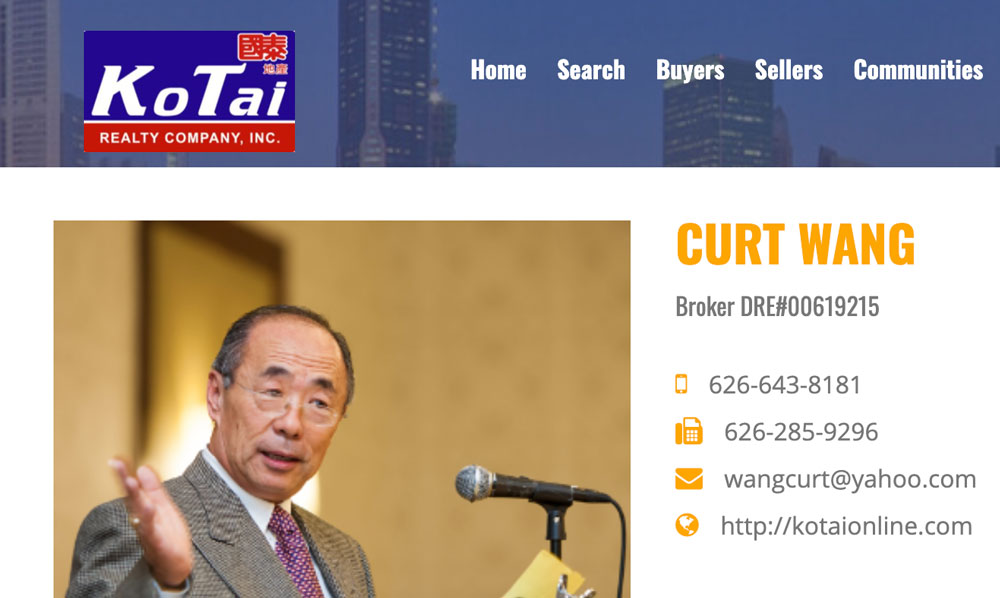 Curt Wang, founder and owner of KoTai Realty.
Image from KoTai Realty website.
In the same email, a city official wrote to Wang that "these deficiencies must be brought up to minimum housing standards for the health, safety and welfare of occupants." The official admonished Wang to inform second-hand landlords "that they are in violation of your lease & City's Municipal Code."
Public records I received from the city show that officials did not make a follow-up visit. I did not find any public record indicating that the issues identified by city inspectors were addressed or remedied.
In 2016, the city made five visits to Wang's building and issued two fines.
The total? $350.
In a brief phone conversation last April, Wang said that if anything is amiss in his buildings, it's because his tenants are violating their leases, and he can evict them. Wang declined to answer more questions and hung up.
In February 2020, when reached by phone again, Wang hung up immediately.
At that point, KPCC/LAist emailed and mailed Wang a letter with a list of findings, established through public records, on-the-ground reporting and multiple interviews, about poor conditions and boarding houses being run out of units at the Lincoln Avenue building.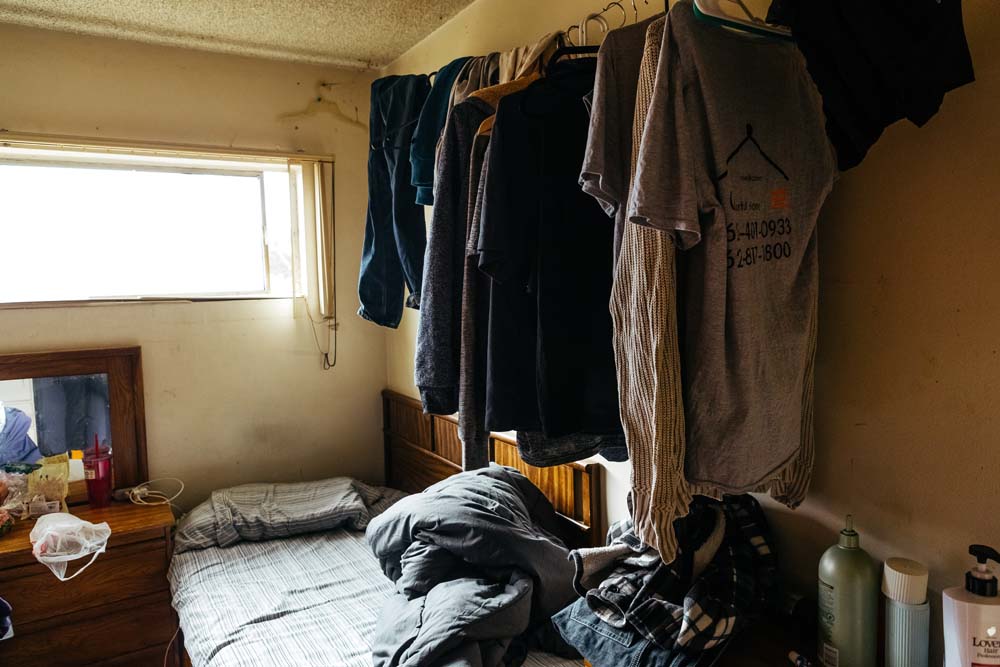 Tenants hang clothes above their beds. (Chava Sanchez/LAist)
Wang did not respond.
An attorney who said he represents Wang did get back to KPCC/LAist. In two phone conversations, Eugene Fu claimed that KPCC/LAist never spoke to his client, and said the findings about the building on Lincoln Avenue were incorrect. Fu did not provide supporting documentation or explanations for his claims and declined to provide an official statement.
The co-owners in the building with Wang's company are a husband and wife named Wai Chi Fang and Tsuey Yuh Huang, of San Marino. KPCC/LAist hand-delivered a letter to their home in February. At the front door, Huang said she has no knowledge of the issues at the building, adding that Curt Wang is the primary property manager. Fang has not responded to the letter.
4. BEYOND MONTEREY PARK
The city of San Gabriel has opened about 230 illegal boarding house cases since 2011, according to data reviewed by KPCC/LAist through public records requests. Lt. Ray Lara, of the San Gabriel Police Department's investigation division, told me that officers come across boarding houses "maybe once a month" during routine calls for service.
Justin Edson, who until recently was a senior officer in San Gabriel's Neighborhood Improvement Services department, estimated that in half of the city's boarding house cases, the property owners are "basically orchestrating the activity."
---
Alhambra
Monterey Park
Rosemead
San Gabriel
Sources: Code enforcement offices of Alhambra, Monterey Park, Rosemead and San Gabriel
The cities of Alhambra and Rosemead each share a border with Monterey Park, but records provided to KPCC/LAist by those cities show far fewer boarding house cases. However, Alhambra's code enforcement supervisor Rafael Perez was open to the possibility that "there may be cases being missed."
Ben Kim, Rosemead's assistant city manager and the supervisor for the city's code enforcement division, declined an interview request.
5. ENFORCEMENT IS ESSENTIALLY TOOTHLESS
The lack of oversight — in Monterey Park and elsewhere — comes down to code enforcement that is essentially toothless, fines that are relatively low and policies that prevent inspectors from even entering a building unless they have "legal justification" of a violation. They're essentially trapped in a Catch-22: To find evidence, they need to enter the building; but without that evidence they cannot get in.
Due to limited language skills and knowledge about cities' housing ordinances, Chinese immigrants living in the boarding houses rarely complain to officials. Some tenants told me they stay quiet out of fear of eviction or deportation.
There's also a moral dilemma in a region where many people are barely hanging on to housing: Many city officials are hesitant to shut down boarding houses. They don't want to drive tenants into homelessness. "If we try to eliminate all the illegal residential motels," said Peter Chan, a Monterey Park city councilmember, "we push them to the streets."
. . .
Additional reporting by Elly Yu.
This report is being published in conjunction with Alhambra Source, which provided additional reporting and support.
---
The series was conceived as a way to bring deeply reported, meaningful and recurring coverage about two of California's most pressing issues: the housing crisis and homelessness.
As the state's affordable housing shortage worsens, more and more people find themselves on the brink of homelessness, or in the streets. Last year, more than 151,000 people in California were counted as homeless, a 17% increase since 2018, according to the U.S. Department of Housing and Urban Development.
We're committed to exploring the many corners of this crisis, from the rise of corporate landlords to renters enduring dangerous and illegal conditions to newly arrived immigrants trying to keep a roof over their heads. We'll also explore ways city and state officials have failed to protect vulnerable populations from exploitation and the way many homeless people are relegated to premature death on the streets. Stay tuned for more coverage from STUCK. SHOW LESS