The burned remains of the mobile home where 5-month-old Jenica Okianna Lozano died in a 2016 fire. (Felix Adamo/The Bakersfield Californian)
Los restos quemados de la casa móvil donde murió Jenica Okianna Lozano, de 5 meses, en el incendio de 2016. (Felix Adamo/The Bakersfield Californian)
'Decades of Neglect'
6 Key Takeaways About PAMA Management & Mike Nijjar's Real Estate Empire
Published Feb. 12, 2020
'Décadas de Negligencia'
6 Conclusiones Claves Sobre PAMA Management Y El Imperio Inmobiliario De Mike Nijjar
Publicado el 12 de febrero de 2020
I had never heard of Mike Nijjar or PAMA Management last winter. At the time, I was reporting on evictions in Southern California, staring at spreadsheets and trying to determine where the practice was most common.
Yo nunca había oído hablar de Mike Nijjar o PAMA Management el invierno pasado. En ese entonces, estaba reportando sobre desalojos en el sur de California, atentamente mirando hojas de cálculo e intentando determinar dónde la práctica era más común.
My reporting quickly tied these entities back to the same landlord: Mike Nijjar and his company PAMA Management.
Mis reportajes rápidamente vincularon estas entidades con el mismo propietario: Mike Nijjar y su compañía PAMA Management.
I saw the same plaintiffs locking out tenants repeatedly. Several had very similar names: Starlite Management II and III, Cobra 28 No. 6 and No. 7.
Vi a los mismos demandantes desalojando a los inquilinos repetidamente. Varios tenían nombres muy similares: Starlite Management II y III, Cobra 28, No. 6 y No. 7.
Over the past year, our investigation reviewed thousands of pages of court documents and other public records. We interviewed dozens of PAMA tenants and ex-employees, visited more than a half-dozen rental properties connected to Nijjar and interviewed officials and fair-housing experts.
En el curso del último año, nuestra investigación revisó miles de páginas de documentos judiciales y otros registros públicos. Entrevistamos a docenas de inquilinos y ex-empleados de PAMA, visitamos más de media docena de propiedades de alquiler conectadas a Nijjar y entrevistamos a funcionarios y expertos en vivienda justa.
What we learned was alarming, exposing a dark side of the Southern California rental market, one often missing from conversations about the housing crisis. We saw fast and frequent evictions, conditions that made tenants feel physically unsafe, and unhealthy and poorly maintained living spaces rented to vulnerable, low-income tenants.
Lo que aprendimos fue alarmante, exponiendo un lado oculto del mercado de alquiler del sur de California, que a menudo faltaba en las conversaciones sobre la crisis de la vivienda. Vimos desalojos rápidos y frecuentes, condiciones que hicieron que los inquilinos se sintieran físicamente inseguros, y unidades de vivienda insalubres y mal mantenidas alquiladas a inquilinos vulnerables de bajos ingresos.
Through an attorney, Nijjar and his closest associates declined our interview requests. They provided a statement below.
A través de un abogado, Nijjar y sus asociados más cercanos rechazaron nuestras solicitudes de entrevista. Proporcionaron una declaración a continuación.
Here are 6 key takeaways from our investigation about PAMA Management and companies connected to Mike Nijjar:
Aquí hay 6 conclusiones clave de nuestra investigación sobre la gestión de PAMA y las empresas relacionadas con Mike Nijjar:
1. THE NIJJAR REAL ESTATE EMPIRE MAKES BIG MONEY RENTING TO LOW-INCOME TENANTS
1. EL IMPERIO INMOBILIARIO DE NIJJAR GANA MUCHO DINERO ALQUILANDO A INQUILINOS DE BAJOS INGRESOS
PAMA Management may be little-known, but it has rented housing to tens of thousands of Californians. PAMA's clientele is made up largely of low-income tenants who represent the bottom rung of the rental market.
La administración de PAMA puede ser poco conocida, pero ha alquilado viviendas a decenas de miles de californianos. La clientela de PAMA está compuesta principalmente por inquilinos de bajos ingresos que representan el peldaño más bajo del mercado de alquiler.
Our investigation identified an estimated 16,000 units owned by business entities connected to PAMA and Mike Nijjar. They are spread across Los Angeles, San Bernardino, Riverside, Kern, Sacramento and Fresno counties, and reach as far as Arlington, Texas.
Nuestra investigación identificó aproximadamente 16,000 unidades que son propiedad de entidades comerciales vinculadas a PAMA y Mike Nijjar. Se extienden por los condados de Los Ángeles, San Bernardino, Riverside, Kern, Sacramento y Fresno, y llegan hasta Arlington, Texas.
In 2019, Nijjar testified that he owns 60 percent of PAMA; the rest, he said, is owned by his three sons and his sister, Daljit Kler. PAMA's day-to-day property management is overseen by Kler.
En 2019, Nijjar declaró que posee el 60 por ciento de PAMA; el resto, dijo, es propiedad de sus tres hijos y su hermana, Daljit Kler. La gestión de propiedad diaria de PAMA es supervisada por Kler.
The units managed by PAMA include apartment complexes, mobile home parks and single family homes.
Las unidades administradas por PAMA incluyen complejos de apartamentos, parques de casas móviles y casas unifamiliares.
This real estate empire has been assessed at more than $1.3 billion, and is controlled by a constellation of more than 170 businesses. Many of the entities — limited partnerships, limited liability corporations and corporations — don't do much. They're formed to hold title to properties and have no actual employees, a Nijjar associate said in a deposition.
Este imperio inmobiliario ha sido valorado en más de $1.3 mil millones, y está controlado por una constelación de más de 170 empresas. Muchas de las entidades — sociedades en comandita simple, sociedades de responsabilidad limitada y corporaciones — no hacen mucho. Están formadas para poseer títulos de propiedades y no tienen empleados reales, dijo un asociado de Nijjar en una declaración.
Listen to the radio version of our investigation
Escucha la versión radial de nuestra investigación.
Plaintiffs' attorneys and prosecutors have alleged that such complex business structures are engineered to shield the identity of corporate landlords, reduce exposure to lawsuits and evade oversight.
Los abogados y fiscales de los demandantes han alegado que tales estructuras comerciales complejas están diseñadas para proteger la identidad de los propietarios corporativos, reducir la exposición a demandas y evadir la supervisión.
Joezen Callos, an attorney who has represented PAMA tenants, likens the complicated, shifting structure to "three-card Monte," in which the principals are "hiding the queen."
Joezen Callos, un abogado que ha representado a los inquilinos de PAMA, compara la estructura complicada y cambiante con el truco de tres cartas, en el cual los directores están "ocultando a la reina."
Just last month, tenants at PAMA properties in Pomona and L.A. received letters saying they had new management companies; while the business names are new, they're still run by longtime PAMA employees.
Precisamente el mes pasado, los inquilinos de las propiedades de PAMA en Pomona y Los Ángeles recibieron cartas anunciando nuevos gerentes; pero si bien los nombres comerciales son nuevos, todavía los administran empleados de PAMA.
---
Search for properties connected to Mike Nijjar and PAMA in L.A., San Bernardino, Kern and Riverside counties. For more details, click on any colored parcel. Many parcels are located in poor areas.
Busque propiedades conectadas con Mike Nijjar y PAMA en los condados de L.A., San Bernardino, Kern y Riverside. Para más detalles, haga clic en cualquier parcela de color. Muchas parcelas se encuentran en zonas pobres.
Use the dropdown menu below to jump to an area on the map.
Use el menú desplegable a continuación para saltar a un área en el mapa.
Ingresos medianos del hogar
Source: KPCC/LAist analysis of county assessors' data from Los Angeles, Kern, Riverside and San Bernardino counties; 2017 American Community Survey 5-Year Estimates
NOTES: The median household income figure cited is for the census tract the parcel lies in, and isn't a measure of estimated income for the parcel itself. Parcels shaded in black are located in census tracts with no median household income data available. This is not an exhaustive map of all PAMA-connected properties.
Fuente: Análisis KPCC / LAist de asesores del condado y rsquo; datos de los condados de Los Ángeles, Kern, Riverside y San Bernardino; Estimaciones quinquenales de la Encuesta de la Comunidad Estadounidense 2017
NOTAS: La cifra promedio de ingresos del hogar citada es para el tramo censal en el que se encuentra el paquete, y no es una medida del ingreso estimado para el paquete en sí. Las parcelas sombreadas en negro se encuentran en las secciones del censo sin datos de ingresos medios disponibles. Este no es un mapa exhaustivo de todas las propiedades conectadas a PAMA.
Our investigation found that the rentals connected to Nijjar and PAMA are overwhelmingly concentrated in low-income areas. Recent research by Princeton University sociologist Matthew Desmond, author of the Pulitzer-winning book, Evicted: Poverty and Profit in the American City, shows that landlording in low-income areas has high profit margins. "A lot of landlords in poor neighborhoods aren't making a living there," Desmond told us. "They're making a killing."
Nuestra investigación encontró que los alquileres conectados a Nijjar y PAMA se concentran casi exclusivamente en áreas de bajos ingresos. Investigaciones recientes del sociólogo Matthew Desmond de la Universidad de Princeton, autor del libro ganador del premio Pulitzer, Evicted: Poverty and Profit in the American City (Desalojado: pobreza y ganancias en la ciudad estadounidense), demuestran que poseer propiedades de alquiler en áreas de bajos ingresos tiene altos márgenes de ganancia. "Muchos propietarios de barrios pobres no se ganan la vida allí," nos dijo Desmond. "Están ganando una tonelada de dinero".
2. DIRTY AND DANGEROUS CONDITIONS REPORTED AT PAMA PROPERTIES
2. CONDICIONES SUCIAS Y PELIGROSAS INFORMADAS EN PROPIEDADES PAMAS
At properties across Southern California, PAMA tenants grappled with similar issues: bedbug infestations, rats, mold, security problems, shoddy repairs or no repairs at all. Their concerns are backed up by a long list of code enforcement violations and government reports.
En propiedades a traves del sur de California, los inquilinos de PAMA enfrentaron problemas similares: infestaciones de chinches, ratas, moho, problemas de seguridad, reparaciones de mala calidad o ninguna reparación. Sus preocupaciones están respaldadas por una larga lista de violaciones de cumplimiento de códigos e informes gubernamentales.
At a Pomona mobile home park, a rare typhus outbreak drew the attention of researchers from the U.S. Centers for Disease Control and Prevention and Naval Medical Research Center, who wrote it up in the journal Neglected Tropical Diseases.
En un parque de casas móviles de Pomona, un brote de tifus raro llamó la atención de investigadores del Centro para el Control y la Prevención de Enfermedades y el Centro de Investigación Médica Naval de EE.UU., quienes escribieron sobre esto en la revista Neglected Tropical Diseases (Enfermedades tropicales desatendidas).
Sewage issues at the same location led the city of Pomona to call out the mobile home park's "long history of disregard and neglect for public health."
Los problemas de drenaje en el mismo lugar causó que la ciudad de Pomona denunciara la "larga historia de indiferencia y abandono de la salud pública" del parque de casas móviles.
In 2017, an expert was asked by the Los Angeles city attorney to assess the condition of the Chesapeake Apartments, a 425-unit, PAMA-managed property in the Baldwin Village neighborhood. He wrote in a legal declaration, "I cannot recall ever seeing a property that is this size and value, owned and operated by persons or entities who have a very substantial financial profile, so starkly rundown, foreboding, and seemingly rudderless."
En 2017, el fiscal de la ciudad de Los Ángeles le pidió a un experto que evaluará la condición de los apartamentos Chesapeake, una propiedad de 425 unidades administrada por PAMA en el vecindario de Baldwin Village. Él escribió en una declaración legal: "No recuerdo haber visto nunca una propiedad de este tamaño y valor, poseída y operada por personas o entidades que tienen un perfil financiero muy sustancial, tan descuidada, aterradora y aparentemente sin rumbo."
The city attorney's lawsuit alleged that "Anyone who sets foot on or near the Property is at risk of becoming a crime victim." At the Chesapeake Apartments, and other PAMA-managed buildings across Southern California, tenants expressed concerns about their safety.
La demanda del fiscal de la ciudad alegó que "cualquier persona que ponga un pie cerca o dentro de la Propiedad está en riesgo de ser víctima de un delito." En los Apartamentos Chesapeake y otros edificios administrados por PAMA en el sur de California, los inquilinos expresaron su preocupación por su seguridad.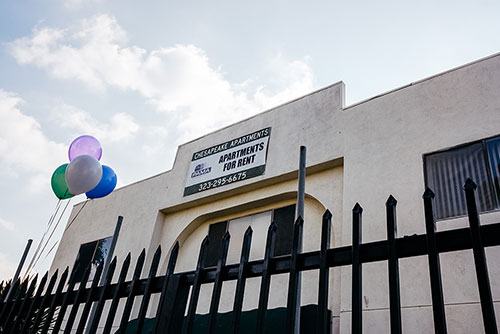 In 2017, the L.A. city attorney tried to force Mike Nijjar to live in the Chesapeake Apartments in L.A.'s Baldwin Village. (Chava Sanchez/LAist)
En 2017, el fiscal de la ciudad de Los Ángeles trató de obligar a Mike Nijjar a vivir en los Apartamentos Chesapeake en Baldwin Village, en Los Ángeles. (Chava Sanchez/LAist)
A San Bernardino complex had bullet holes in palm trees and mailboxes. A tenant we interviewed last fall was later shot and killed in the parking lot of a PAMA-managed complex, also in San Bernardino.
Un inquilino que entrevistamos el otoño pasado fue asesinado a tiros en el estacionamiento de un complejo administrado por PAMA en San Bernardino. Un complejo cercano tenía agujeros de bala en palmeras y buzones.
3. A BABY GIRL DIED AT A PAMA PROPERTY; REGULATORS BLAMED PAMA
3. UNA NIÑA MURIÓ EN UNA PROPIEDAD PAMA; LOS REGULADORES CULPARON A PAMA
On Jan. 24, 2016, a fire at an Oildale, Calif., trailer park killed 5-month-old Jenica Okianna Lozano.
El 24 de enero de 2016, un incendio en un parque de casas rodantes de Oildale, California, mató a Jenica Okianna Lozano, una niña de 5 meses.
Government officials were deeply concerned. An arson investigator wrote, "I believe that PAMA Management Company has been negligent in their business practices," and requested criminal charges against PAMA "for criminal neglect."
Los funcionarios del gobierno estaban profundamente preocupados. Un investigador de incendios provocados escribió: "Creo que PAMA Management Company ha sido negligente en sus prácticas comerciales" y solicitó cargos penales contra PAMA "por negligencia criminal."
State investigators determined that the mobile home was not permitted for human occupancy — and never should have been rented out in the first place. Smoke and carbon monoxide detectors, required by law, might have saved Jenica's life; investigators found the mobile home did not have any.
Los investigadores estatales determinaron que la casa móvil no tenía los permisos adecuados para la ocupación humana, y que nunca debería haber sido alquilada. Los detectores de humo y monóxido de carbono, requeridos por la ley, podrían haber salvado la vida de Jenica; los investigadores encontraron que la casa móvil no tenía ninguno.
An attorney for the California Department of Real Estate summed up the actions of Nijjar Realty and PAMA Management, saying that their "complete disregard for all Health and Safety Code statutes and regulations that are intended to protect the public led to the death of an infant."
Un abogado del Departamento de Bienes Raíces de California resumió las acciones de Nijjar Realty y PAMA Management, diciendo que su "total indiferencia por todos los estatutos y reglamentos del Código de Salud y Seguridad destinados a proteger al público resultaron en a la muerte de un bebé."
Regulators moved to strip Mike Nijjar of his real estate license. His business partner and Nijjar Realty lost their licenses, but Nijjar himself, who was no longer the designated officer of Nijjar Realty, held on to his.
Los reguladores procedieron para despojar a Mike Nijjar de su licencia de bienes raíces. Su socio comercial y Nijjar Realty perdieron sus licencias, pero el propio Nijjar, que ya no era el oficial designado de Nijjar Realty, retuvo la suya.
The Kern County district attorney charged PAMA Management with involuntary manslaughter over the baby's death, calling the company "a sophisticated slumlord" in a preliminary hearing. A judge said there was insufficient evidence for the charges to move forward.
El fiscal de distrito del condado de Kern acusó a PAMA Management de homicidio involuntario por la muerte del bebé y calificó a la compañía como "un propietario explotador sofisticado" en una audiencia preliminar. Un juez dijo que no había pruebas suficientes para que los cargos avanzaran.
Marissa Rodríguez , Jenica's mom, received an undisclosed sum in a civil settlement. Rodríguez told us she doesn't think justice was served.
Marissa Rodríguez , la madre de Jenica, recibió una suma no revelada en un acuerdo civil. PAMA y los abogados de Nijjar Realty negaron su responsabilidad en la acción judicial. Rodríguez nos dijo que no cree que se haya hecho justicia.
"I lost my daughter. They could have just fixed everything," she told us. "They should get locked up for it."
"Perdí a mi hija. Podrían haber arreglado todo," nos dijo. "Deberían ser encarcelados por eso."
4. PAMA HAS A WELL-RUN EVICTION MACHINE
4. PAMA TIENE UNA MÁQUINA DE DESALOJO EFICIENTE
PAMA and its corporate cousins have evicted thousands of people in recent years.
PAMA y sus primos corporativos han desalojado a miles de personas en los últimos años.
Our analysis found these businesses are responsible for 1 in 20 eviction lockouts in San Bernardino County since 2010. PAMA has used an "Eviction Calendar" and eviction flowchart featured in an employee handbook.
Nuestro análisis encontró que estas empresas han llevado a cabo 1 de cada 20 desalojos en el condado de San Bernardino desde 2010. PAMA ha utilizado un "Calendario de desalojo" y un diagrama de flujo de desalojo que se presenta en un manual del empleado.
PAMA is aware of how high the stakes are for renters facing eviction.
PAMA es consciente de cuán altos son los riesgos para los inquilinos que enfrentan desalojos.
"Many of our tenants live literally paycheck to paycheck; it doesn't take much to push them over the edge," Nijjar's partner, Everet Miller, testified in 2011. Still, he said, "We can't be aggressive and send out Guido with a baseball bat and break their kneecaps. The system is the system."
"Muchos de nuestros inquilinos viven literalmente de cheque a cheque; no se necesita mucho para llevarlos al límite," declaró la compañera de Nijjar, Everet Miller, en 2011. Sin embargo, dijo: "No podemos ser agresivos y enviar a Guido con un bate de béisbol y romperles las rótulas. El sistema es el sistema."
One outside law firm with close ties to PAMA, Fast Eviction Services, advertises a deal to landlords: a free luxury purse for five eviction cases.
Una oficina legal externa con vínculos estrechos con PAMA, Fast Eviction Services, anuncia una oferta a los propietarios: una cartera de lujo gratuita por cinco casos de desalojo.

Source: Fast Eviction Services
Fuente: Fast Eviction Services
While landlords have broad latitude to evict tenants who haven't paid rent or have violated a lease, former employees, plaintiffs' attorneys and fair-housing advocates said they believe PAMA evicts to retaliate when tenants complain about legitimate issues.
Aunque los propietarios tienen una amplia libertad para desalojar a los inquilinos que no han pagado el alquiler o que han violado un contrato de arrendamiento, los ex empleados, los abogados de los demandantes y los defensores de la vivienda justa dijeron que creen que PAMA usa el desalojo como represalia cuando los inquilinos se quejan de problemas legítimos.
"Tenants are afraid to pick up the phone because of the retaliation. Because they're going to end up being on the street, being evicted, for voicing a concern," Elizabeth Signorelli of the nonprofit Fair Housing Council of Riverside County, told us.
"Los inquilinos tienen miedo de levantar el teléfono debido a las represalias. Porque van a terminar en la calle, siendo desalojados, por expresar una preocupación, " nos dijo Elizabeth Signorelli de la organización sin fines de lucro Fair Housing Council of Riverside County (Consejo de Vivienda Justa del Condado de Riverside).
5. GOVERNMENT REGULATION IS A MESS
5. LA REGULACIÓN GUBERNAMENTAL ES UN DESASTRE
In California, enforcement of rental housing regulations is fragmented and often ineffective. There is no single enforcement agency keeping track of massive real estate enterprises such as PAMA.
En California, la aplicación de las normas de alquiler de viviendas es fragmentada y, a menudo, ineficaz. No existe sola una agencia de empresas inmobiliarias masivas como PAMA.
Mobile home parks, for example, are regulated by the state. Apartments are monitored by cities and counties. That means a trailer park and an apartment complex can sit side by side but face regulation by different agencies.
Los parques de casas móviles, por ejemplo, están regulados por el estado. Los apartamentos son monitoreados por ciudades y condados. Eso significa que un parque de casas móviles y un complejo de apartamentos pueden sentarse uno al lado del otro, pero enfrentarse a reglamentos de diferentes agencias.
When regulators do act, they generally focus on one property at a time. Even within a city, different departments might have overlapping responsibilities. They may not consider, or be aware of, the web of connected entities that make up a modern real estate empire.
Cuando los reguladores actúan, generalmente se centran en una propiedad a la vez. Incluso dentro de una ciudad, diferentes agencias pueden tener responsabilidades superpuestas. Es posible que no consideren, o sean conscientes de, la red de entidades conectadas que forman un imperio inmobiliario moderno.
And that may be the biggest obstacle: secrecy. California and the federal government each fail to make information about large landlords accessible to the public, or even to lawmakers.
Y ese puede ser el mayor obstáculo: el secretismo. California y el gobierno federal no logran que la información sobre los grandes propietarios sea accesible al público o incluso a los legisladores.
Last year, a proposed California law sought to provide valuable new data on the rental market. AB 724, introduced by Assemblymember Buffy Wicks, would have forced large landlords to report rents, vacancies, ownership and evictions at their properties. Currently, such basic information is not available in California.
El año pasado, un proyecto de ley de California buscó proporcionar datos nuevos y valiosos sobre el mercado de alquiler.AB 724, presentado por la asambleísta Buffy Wicks, habría obligado a los grandes propietarios a informar sobre alquileres, unidades vacantes, propiedad y desalojos en sus propiedades. Actualmente, dicha información básica no está disponible en California.
The bill encountered fierce opposition from landlord groups, including the California Apartment Association and Southern California Rental Housing Association. Landlords, through their lobbying efforts, are a powerful and deep-pocketed force in Sacramento. "They were definitely not supportive," Wicks told us. The bill died in the Appropriations Committee.
El proyecto de ley encontró una fuerte oposición por parte de los grupos de propietarios, incluida la Asociación de Apartamentos de California y la Asociación de Viviendas de Alquiler del Sur de California. Los propietarios, a través de sus esfuerzos de cabildeo, son una fuerza poderosa y con mucho dinero en Sacramento. "Definitivamente no lo apoyaron," nos dijo Wicks. El proyecto de ley murió en el Comité de Asignaciones.
LAist depends on your support
We don't have paywalls, but we do have payments (aka bills). So if you love independent, local journalism, join us.

Donate now
6. NIJJAR AND HIS ASSOCIATES AT PAMA DECLINED INTERVIEW REQUESTS, BUT PROVIDED A COMMENT
6. NIJJAR Y SUS COLEGAS EN PAMA RECHAZARON SOLICITUDES DE ENTREVISTAS, PERO PROPORCIONARON COMENTARIOS
Over the course of 10 months, we made several attempts to talk to Nijjar and his associates via email, phone calls, letters and a visit to PAMA's offices, but never got an interview. Late last month, we received a statement from Cristina Ciminelli, of the law firm Yukevich | Cavanaugh. Entiitled, "Statement of PAMA Management, Inc. — January 27, 2020," the statement has no letterhead or signature; it does not mention Nijjar by name. It reads, in full:
En el transcurso de 10 meses, intentamos varias veces de hablar con Nijjar y sus colegas por correo electrónico, llamadas telefónicas, cartas y una visita a las oficinas de PAMA, pero nunca recibimos una respuesta. A fines del mes pasado, recibimos una declaración de Cristina Ciminelli, del bufete de abogados Yukevich | Cavanaugh titulada, "Declaración de PAMA Management, Inc. – 27 de enero de 2020." La declaración no tiene membrete ni firma; no menciona Nijjar de nombre. Dice, en su totalidad:
PAMA Management cares about the communities and the people we serve. Providing affordable housing to those who need it is our mission. PAMA has operated in Southern California for more [than] 40 years. In its years of operation, PAMA has served tens of thousands of residents of Southern California.
Very often, PAMA assumes management of multi-unit apartment complexes in the community that are subject to City and County Code enforcement violations due to years of deferred maintenance, and does the necessary to improve those properties, clear the violations, and make it possible for families to continue to occupy those buildings.
Tenants with maintenance requests must report them to management. PAMA partners with maintenance professionals and contractors to maintain its properties. In addition, PAMA employs property managers who reside on the properties they manage with their families, and who have an interest in maintaining habitable living environments for residents.
It is PAMA's hope that KPCC recognizes the efforts PAMA makes to create safe and affordable housing for low-income Southern California residents.
PAMA Management se preocupa por las comunidades y las personas que servimos. Brindar una vivienda asequible a quienes la necesitan es nuestra misión. PAMA ha operado en el sur de California por más 40 años. En sus años de operación, PAMA ha servido a decenas de miles de residentes del sur de California.
Muy a menudo, PAMA asume la administración de complejos de varias unidades en la comunidad que están en violación de cumplimiento del Código de la Ciudad y el Condado debido a años de mantenimiento diferido, y hace lo necesario para mejorar esas propiedades, eliminar las violaciones y hacerlo posible que las familias continúen ocupando esos edificios.
Los inquilinos con solicitudes de mantenimiento deben reportarlas a la gerencia. PAMA se asocia con profesionales de mantenimiento y contratistas para mantener sus propiedades. Además, PAMA emplea administradores de propiedades que residen con sus familias en las mismas propiedades y que tienen interés en mantener una vivienda habitable para los residentes.
Es la esperanza de PAMA que KPCC reconozca los esfuerzos que hace PAMA para crear viviendas seguras y asequibles para los residentes de bajos ingresos del sur de California.
. . .
Additional reporting by Rina Palta, Chava Sanchez, Shana Daloria and Priska Neely.
Reportes adicionales por Rina Palta, Chava Sanchez, Shana Daloria and Priska Neely.
Support for this project came from the Corporation for Public Broadcasting.
El apoyo para este proyecto provino de la Corporación de Radiodifusión Pública.
---
The series was conceived as a way to bring deeply reported, meaningful and recurring coverage about two of California's most pressing issues: the housing crisis and homelessness.
As the state's affordable housing shortage worsens, more and more people find themselves on the brink of homelessness, or in the streets. Last year, more than 151,000 people in California were counted as homeless, a 17% increase since 2018, according to the U.S. Department of Housing and Urban Development.
We're committed to exploring the many corners of this crisis, from the rise of corporate landlords to renters enduring dangerous and illegal conditions to newly arrived immigrants trying to keep a roof over their heads. We'll also explore ways city and state officials have failed to protect vulnerable populations from exploitation and the way many homeless people are relegated to premature death on the streets. Stay tuned for more coverage from STUCK. SHOW LESS
La serie se concibió como una forma de brindar una cobertura profundamente informada, significativa y recurrente sobre dos de los problemas más acuciantes de California: la crisis de la vivienda y la falta de vivienda.
A medida que la escasez de viviendas asequibles en el estado empeora, cada vez más personas se encuentran al borde de la falta de vivienda o en las calles. El año pasado, más de 151,000 personas en California fueron contadas como personas sin hogar, un aumento del 17% desde 2018, según el Departamento de Vivienda y Desarrollo Urbano de EE.UU.
Estamos comprometidos a explorar los muchos rincones de esta crisis, desde el surgimiento de propietarios corporativos hasta inquilinos que soportan condiciones peligrosas e ilegales, hasta inmigrantes recién llegados que intentan mantener un techo sobre sus cabezas. También exploraremos formas en que los funcionarios de la ciudad y el estado no han podido proteger a las poblaciones vulnerables de la explotación y la forma en que muchas personas sin hogar son relegadas a la muerte prematura en las calles. Estén atentos para más cobertura de STUCK. MUESTRA MENOS