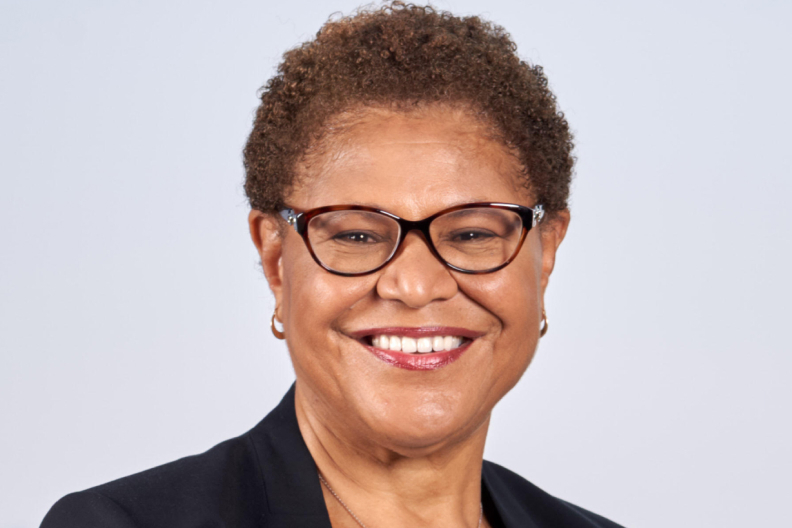 Karen Bass represents the 37th Congressional District (Mid City, Westwood, Exposition Park, Baldwin Hills). She was elected Speaker of the California Assembly in 2008, making her the first Black woman in U.S. history to lead a state legislative body. She founded the Community Coalition and the National Foster Youth Institute.
Website: karenbass.com
View topic guide
Climate change is contributing to longer and more severe droughts in California. What do you think is the most important and impactful step the city can take as part of a strategy to protect Angelenos' water supply?

Expand rebate programs, e.g. to replace lawns with drought-tolerant landscaping and to purchase water-efficient appliances for homes and businesses

Make outdoor watering rules even more strict and increase enforcement of rules at both homes and businesses

Ban non-drought-tolerant grass in new developments and commercial and industrial settings

Speed up water recycling and stormwater capture efforts

What is the most important and impactful step the city can take as part of a strategy to keep Angelenos safe amid extreme heat?

Provide more direct support to Angelenos during extreme heat waves: e.g. open more cooling stations, provide more subsidized air conditioning and assistance on utility bills, etc.

Improve cooling infrastructure in neighborhoods with less tree cover: e.g. plant trees, build shade structures, expand green space, etc.

Mandate indoor cooling standards for homes and workplaces so developers and landlords are required to incorporate heat resilience

Increase public messaging around the dangers of extreme heat and how to keep yourself and loved ones safe

Transportation is the largest source of greenhouse gas emissions in Los Angeles. Where do you see the biggest opportunity to lower those emissions?

Expand public transit and bike and pedestrian-friendly areas

Expand rebate programs and provide other incentives to get more people into electric or hybrid vehicles or using public transportation

Expand the city's electric vehicle charging network

Double down on investments in hydrogen fuel technology

Implement gas engine vehicle restrictions

Fires in the city and its surroundings are growing more frequent and more severe as a result of the climate crisis. What is the most important and impactful step the city can take as part of a strategy to tackle this problem?

Increase resources for fighting fires

Work with developers to harden structures: Require building standards that are stricter than the state's

Work with property owners to harden structures and ensure defensible space around each through incentives or fines

Prohibit or restrict new developments in fire-prone areas
View topic guide
Los Angeles Municipal Code 41.18, better known as the "anti-camping law," bans people who are unhoused from camping on public property close to locations such as schools, parks, libraries, and underpasses. Should 41.18 be kept as is, repealed, or changed?

Keep as is

Keep it, but expand support for those experiencing homelessness

Change the law or change how it's implemented

Repeal it

I support the intent of 41.18 – it is unacceptable for encampments to exist near schools and child care centers. I have a problem with 41.18's district by district, encampment by encampment approach. We need coordinated, citywide leadership to solve this problem, and we need to ensure that housing and services are available for homeless individuals because what I will never accept is simply moving an encampment from one neighborhood to another. That's not a solution – that's whack a mole.

Do you agree or disagree with the following statement? "We need to stop allowing homeless encampments and shelters near residences."

Strongly agree

Somewhat agree

Somewhat disagree

Strongly disagree

Do you agree with Angelenos who say that the large number of people living outside makes neighborhoods less safe?

Yes, the homelessness crisis makes everyone less safe

It's debatable

What is the most important and impactful step the city can take as part of a strategy to address the homelessness crisis in the near-term?

Build more permanent affordable housing

Build more temporary shelters

Expand mental health facilities and access

Create more jobs

Lower the cap on rent increases in the city's rent-controlled housing

All or some combination of the above

I will immediately address the homelessness crisis by building more interim and permanent housing, rebuilding the mental health and substance abuse systems, and providing unhoused Angelenos with job training and employment assistance.
View topic guide
Traffic violence is considered a public health crisis by many state and local officials. City programs and plans aimed at making streets safer, including Vision Zero and Mobility Plan 2035, have not been effective, especially for low-income Angelenos and in Black and Brown communities. What is the most important and impactful step the city can take as part of a strategy to make the streets safer for pedestrians and cyclists?

Increase equitable investment in traffic calming infrastructure (i.e. left-turn arrows, high visibility crosswalks, curb extensions, traffic circles, etc.)

Advocate for speed cameras (would require state legislation)

Direct police to write more traffic tickets

Expand work on reducing speed limits

Create more car-free zones throughout the city

Due to the city's emergency decree, rent increases are currently not allowed for tenants living in the city's rent-controlled housing. But before the pandemic, Los Angeles generally allowed annual rent increases between 3% and 8%, depending on inflation. Should the city alter its rent control limits, eliminate them, or keep them?

Keep them as is

Lower them

Raise them

Eliminate them

We must protect our rent-controlled housing stock, and expand just cause eviction protections to non-rent controlled multifamily properties.

Landlords say they've been struggling amid rising costs, inflation over 7%, and pandemic-era restrictions such as temporary bans on rent increases and evictions. Should we lift the city's eviction protections now, let them expire in January, or extend them past January?

Lift them now

Let them expire

Extend them

I am concerned that if the eviction moratorium is lifted too soon, it will cause more Angelenos to fall into homelessness. At the same time, I believe that we must protect our mom and pop landlords, many of whom face unique challenges exacerbated by the pandemic. The city should help ensure these apartment owners receive the financial support they need to stay afloat and continue to house Angelenos.

What statement best reflects your position on the minimum wage of $16.04 that went into effect on July 1, 2022?

It's adequate

It's too low

At that level, it places too much of a burden on small businesses

I don't support a minimum wage

Do you agree with Mayor Garcetti's decision to pilot a universal basic income program in Los Angeles?

Yes

No
View topic guide
The Los Angeles Police Department currently has fewer than 9,400 sworn officers but is authorized to have about 9,700. As mayor, what would you do?

Increase sworn officers to the authorized limit

Push to authorize even more officers

Reduce, or keep it at the current level

The current LAPD operating budget of $1.9 billion represents about 16% of the overall city budget. Should LAPD funding stay the same, increase or decrease?

Stay the same

Increase

Decrease

What do you think is the most important and impactful step the city can take as part of a strategy to ensure that officers responding to a 911 call can recognize a mental health crisis and avoid using lethal force?

Expand the number of available Mental Evaluation Units (there are currently only 10-12), which pair a mental health clinician with an armed officer

Increase mental health crisis response training for officers

Improve training for dispatchers so they can funnel calls to 988, the new mental health crisis line

I will immediately increase co-response and alternative response teams that include mental health, homeless outreach and other specialists who can respond to people in distress, freeing officers to focus on crime.

Would you be willing to meet with groups that have been sharply critical of the police, such as Black Lives Matter and Reform L.A. Jails?

Yes

No

District Attorney George Gascón came to office on a progressive agenda that includes fewer prosecutions for low-level crimes. What statement best reflects your opinion of his agenda?

Broadly aligns with my beliefs

I disagree with some of his agenda

I disagree with most of his agenda

I disagree with most of his agenda and think he should have been recalled from office

What do you think is the most important and impactful step the city can take as part of a strategy to repair the frayed relationships between the LAPD and many of the communities it serves?

Increase funding for community-based policing

Increase officer training in de-escalation techniques

Replace the current police chief

Accountability starts at the top. I will be a hands-on Mayor who looks for leaders who embrace accountability, are committed to preventing and reducing crime, and increasing mutual trust between officers and communities. I will lay out clear goals and expectations for the Police Chief and Police Commission – and I will expect them to meet those goals. As Mayor, I will invest in Senior Lead Officers and proven programs like the Community Safety Partnership to build trust between officers and the communities they serve – and I will double down on investments in crime prevention programs that address the root causes of crime.
---
Credits & Support
Reporting
Julia Barajas
Caitlin Biljan
Austin Cross
Jackie Fortiér
Robert Garrova
Adolfo Guzman-Lopez
Caitlin Hernández
Brianna Lee
Maloy Moore
Gillian Morán Pérez
Adriana Pera
Kyle Stokes
Frank Stoltze
Erin Stone
David Wagner
Ethan Ward
Editing
Ross Brenneman
Brian Frank
Oscar Garza
Karina Gacad
Megan Garvey
Paul Glickman
Suzanne Levy
Tony Marcano
Rebecca Nieto
Mary Plummer
Ariel Zirulnick
Web Development and Design
Melissa DeMund
Diana Chu
Peter Hernández
Dan Carino
Ruolin Tu
Arantza Peña Popo
Will Welch (The City: NYC)
Videography
Photography
James Evers
Louis Felix
Ryanne Mena
Events
Caitlin Biljan
Jon Cohn
Tony Federico
Alexis Gero
Thuy Mao
Kristen Payne
Donald Paz
Bianca Ramirez
Kristen Ranger
Rebecca Stumme
Marketing
Sophie Chap
Leo Gomez
Andy Orozco
Support
This coverage was made possible through support by the Committee for Greater LA in partnership with the Conrad N. Hilton Foundation and the Weingart Foundation.

Special Thanks
Special thanks to The City, which originally conceived and developed this project for voters in New York.