System Of A Down's Serj Tankian Is A Political Influencer In Armenia
For more than a decade, the L.A.-based rock star has been a household name in Armenia, for his music and his politics.
Published June 22, 2020
Heavy metal band System Of A Down hasn't released an album in 15 years, but frontman Serj Tankian's popularity in Armenia is higher than ever.
The Armenian American rock star is a household name in his ancestral homeland, for his music and for his political activism there. We're not talking about garden-variety celebrity advocacy; in 2018, the long-goateed vocalist behind headbanger anthems like "Aerials" and "B.Y.O.B" was a major player in a popular uprising that removed Armenia's Prime Minister from power.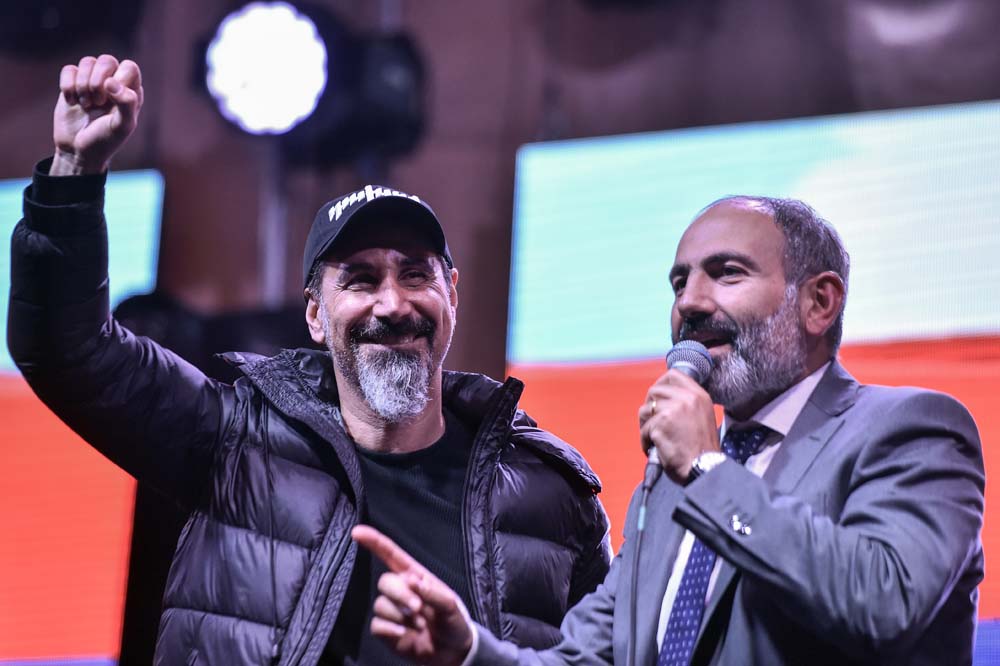 Serj Tankian stands beside protest leader Nikol Pashinyan, who became Armenia's Prime Minister after the 2018 Velvet Revolution. (Sergei Gapon/AFP via Getty Images)
The protest movement, known by most as the "Velvet Revolution," is the subject of a new documentary film called "I Am Not Alone," executive-produced and scored by Tankian. The film premiered at the Toronto Film Festival last year, but its L.A. theatrical release is delayed at least until September 2020.
"In times like this, where so many of us feel unable to make real change where we live, it's a film that actually gives hope," Tankian told me by phone. "Change is possible. It just happened in a small country of 3 million people, in an area influenced by overt corruption, and this can happen anywhere."
Listen to the radio version of this story.
Tankian called from his home in New Zealand, where he's been since the Coronavirus lockdown began. He usually splits time between there and L.A.
Tankian, 52, was born in Beirut but moved to L.A. with his parents at age 7, after the Lebanese Civil War broke out. He attended Rose and Alex Pilibos Armenian School in Little Armenia, as did two of his System Of A Down bandmates, Daron Malakian and Shavo Odadjian.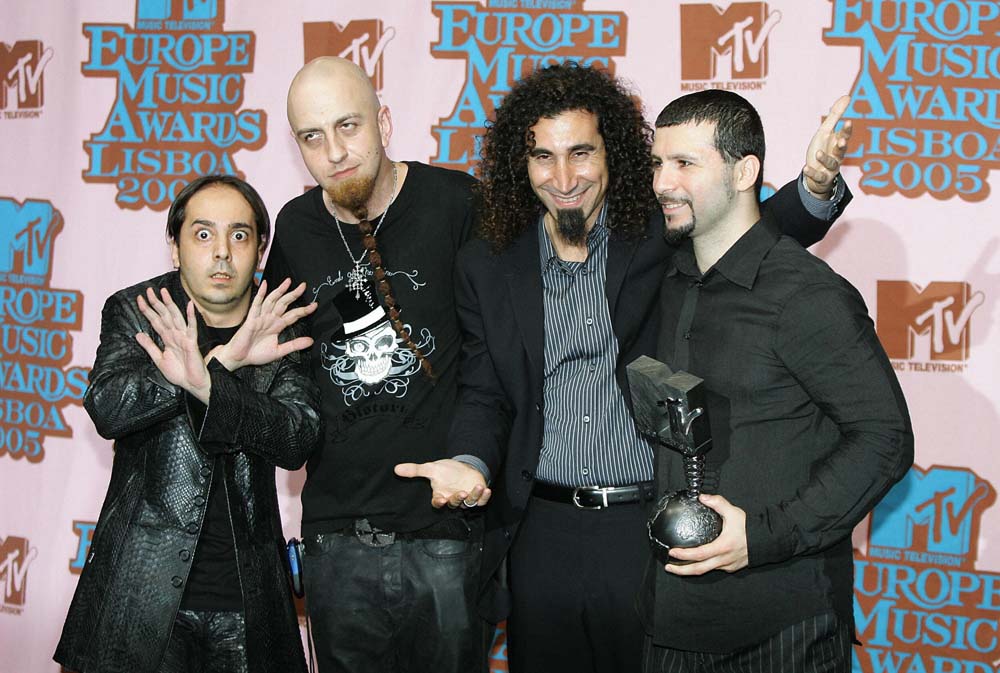 Winner of Best Alternative act, System Of A Down poses backstage at the MTV European Music Awards at the Atlantico Pavillion in Lisbon on Nov. 3, 2005. (Nicolas Asfouri/AFP via Getty Images)
The Armenian American metal band formed in the mid-90s, but didn't become international superstars until the release of their second album, Toxicity. It was at the top of the charts the week of September 11, 2001 and went on to sell millions of copies. The album's first single, "Chop Suey!," was pulled from many radio playlists after the 9/11 attacks, out of concern over inappropriate lyrics, especially the line: "I don't think you trust in my self-righteous suicide."
Tankian courted more controversy by posting an essay on System Of A Down's website two days after the attacks calling out U.S. imperialism in the Middle East. The band's record label, Sony, took the post down and accused Tankian of trying to justify terrorism.
"I've always talked truth to power," Tankian said. "I think most artists try not to be political so they don't lose some of their base." I've never been that type of artist. I will never be that type of artist. I was an activist before becoming an artist, so it's just part of who I am."
In Armenia, about 93 percent of people belong to the Armenian Apostolic Church, the national church of Armenia since 301 A.D. Armenian Christian churches are also centers of community life for most Armenians in L.A. and throughout the diaspora. But Tankian is not particularly interested in organized religion. He describes his religious views as a mash-up of Native American, Buddhist and transcendental ideas.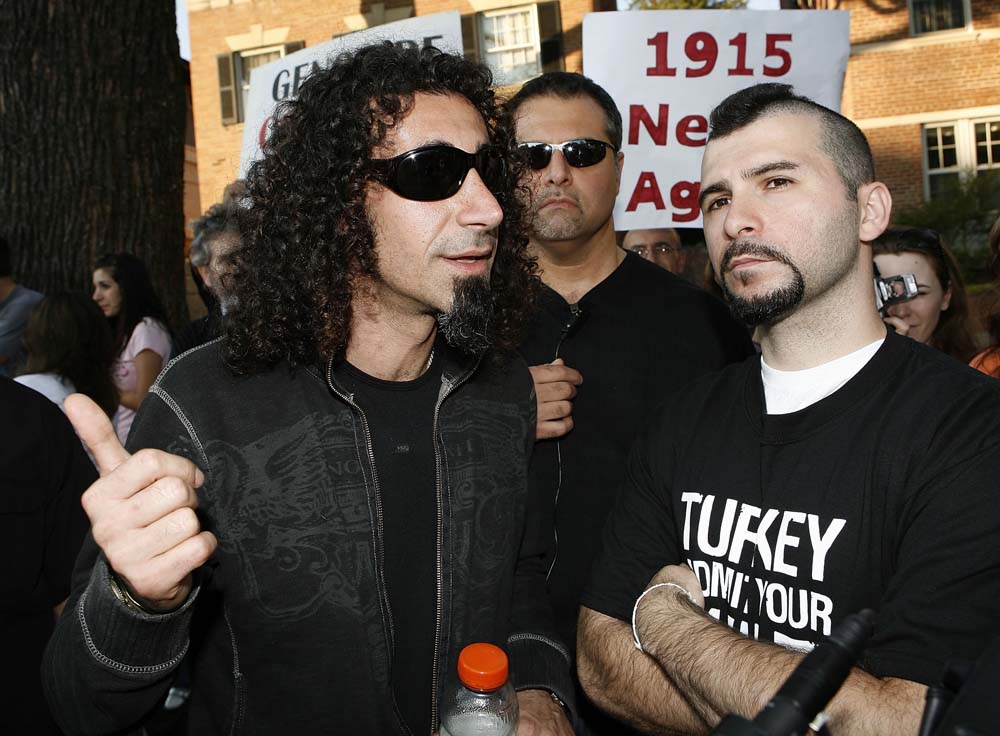 Lead singer for System Of A Down, Serj Tankian, and drummer John Dolmayan attend a demonstration remembering the Armenian Genocide in front of the Turkish Embassy April 24, 2006 in Washington D.C. (Joshua Roberts/Getty Images)
"I'm the same religion as that tree over there," Tankian once told an interviewer. "God has been used for ulterior motives."
A PERSONAL QUEST
From the beginning, Tankian, who is several years older than System Of A Down's other members, was the band's politically minded poet. All four of Tankian's grandparents were Armenian Genocide survivors, and he's used the band's megastardom to call for international recognition of the atrocities committed by the Turkish-led Ottomaton Empire in 1915.
"To me, it's a personal quest to let the world know about their stories," he said.
Alongside a host of Armenian American groups, Tankian has long fought for U.S. recognition. Those efforts paid off last year, when both houses of Congress passed bills officially recognizing the Armenian Genocide for the first time ever.
"It was monumental for Armenian Americans, emotionally and politically," Tankian said. "Properly recognizing the suffering of our grandparents and what they had to live through. This is a 100-year-old injustice that still resonates because we still have this kind of shit happening in the world. Genocide has not been eradicated off the planet like it should be."
Over the years, System Of A Down has headlined benefit concerts for Armenian Genocide recognition and called out the Turkish government's continued denialism in songs like "P.L.U.C.K." (Politically Lying, Unholy, Cowardly Killers). The band once asked fans to contact President George W. Bush and urge him to properly characterize the Armenian Genocide in presidential statements.
Tankian later joined with Rage Against The Machine's Tom Morello and called on President Barack Obama to do the same. He also told the story of his grandfather, genocide survivor Stepan Haytayan, in a 2006 documentary called "Screamers."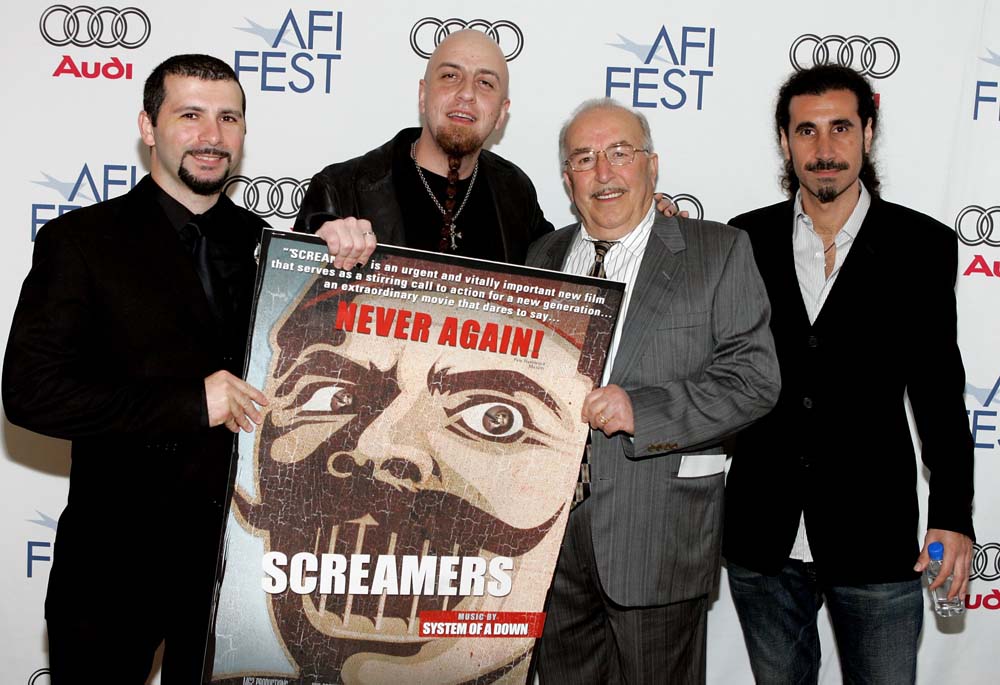 Musicians John Dolmayan, Shavo Odadjian, grandfather Markharout and Serj Tankian arrives at the world premiere of "Screamers" during the AFI FEST on Nov. 2, 2006 in Hollywood. (Frazer Harrison/Getty Images)
In 2015, to commemorate the 100th anniversary of the Armenian Genocide, System Of A Down played their first concert ever in Armenia, a free show in capital city Yerevan's Republic Square. Between songs, the band honored the 1.5 million Armenian lives lost, and celebrated the ancestors of survivors, still here a century later.
"This is not a rock n' roll concert," guitarist Daron Malakian screamed out early in the two-and-a-half-hour set. "To our murderers, this is revenge!"
Tankian says it was the most memorable show he's played in more than 20 years with the band.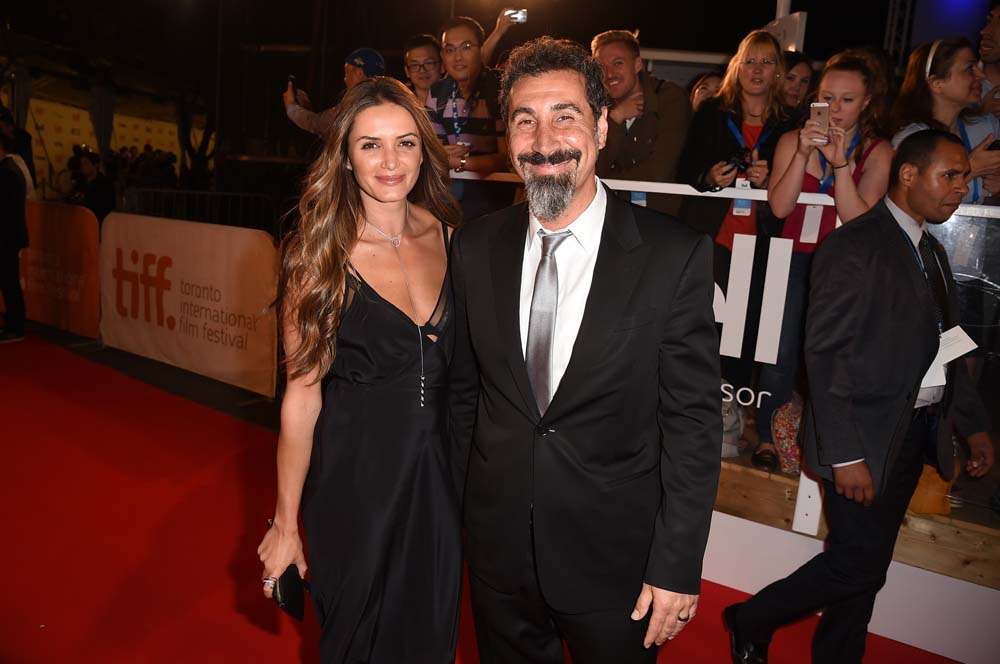 Musician Serj Tankian and his wife, Angela Madatyan, attend the "The Promise" premiere during the annual Toronto International Film Festival at Roy Thomson Hall on Sept. 11, 2016. (Kevin Winter/Getty Images)
"It felt like we had grown up," he told me. "And we did everything that we did before so we can arrive at this place and play that one show. It felt like we were doing something above and beyond music that was really powerful."
Tankian's genocide recognition efforts continue. In March, he spoke at New Zealand's Parliament, urging the government to formally acknowledge the Armenian Genocide in that country.
BEFORE THE REVOLUTION
Tankian's political activism isn't just about the Armenian Genocide. He's never lived in Armenia, but that hasn't stopped him from calling out the post-Soviet Republic's political leaders on corruption and economic conditions in recent years.
When former President Serzh Sargsyan, first elected in 2008, won a second term in 2013, Tankian wrote a public letter challenging the legitimacy of the election.
"Like most Diasporan Armenians, I have always been reluctant to criticize your government directly and publicly," Tankian said in the letter. "But the avalanche of people suffering under your rule due to corruption and injustice is tipping the scale for us all."
In 2014, President Sargsyan, a member of Armenia's then-dominant Republican Party, urged Armenian voters to approve a new constitution, changing the government from a presidential system to a parliamentary one where the Prime Minister is the most powerful figure in the country. Sargsyan promised not to seek that role himself, and voters approved the change in 2015.
In 2017, when Armenia was getting ready for parliamentary elections, Tankian and other well-known Armenians, including Reddit co-founder Alexis Ohanian, started a petition called Justice Within Armenia, urging Armenians to monitor elections to make sure the process was democratic.
"To me, it's always about justice, whether it's in America or Armenia," Tankian said. "So I've been very openly talking about people leaving the country because there's no job opportunities, people not getting a fair shake from the courts and rampant corruption."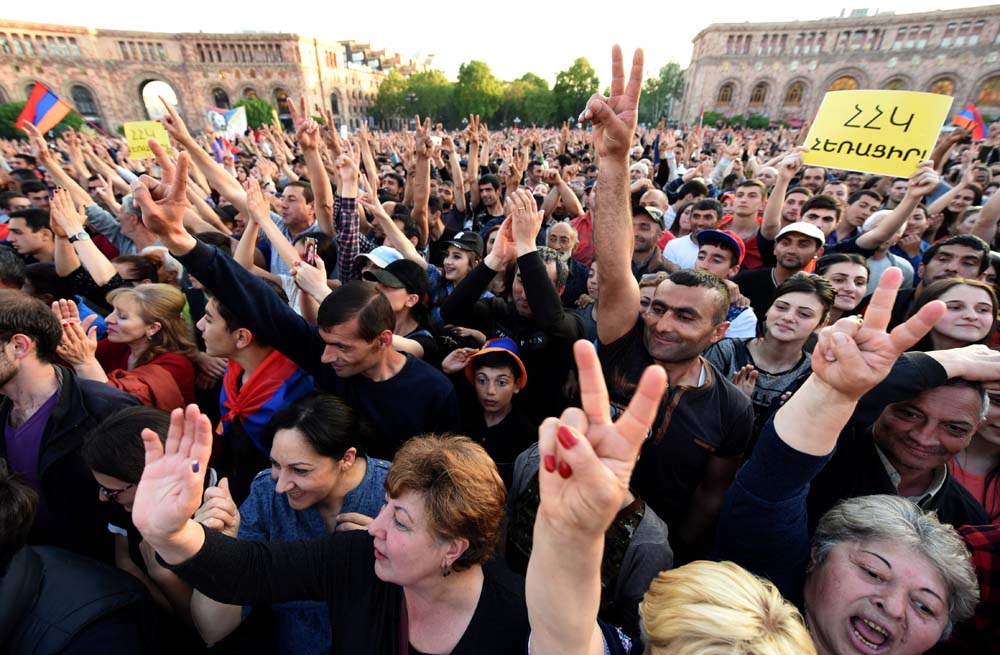 Supporters of Armenia's opposition leader Nikol Pashinyan attend a rally in downtown Yerevan on April 26, 2018. (Vano Shlamov/AFP via Getty Images)
In 2018, President Sargysan went back on his word and tried to hold onto power indefinitely as Armenia's new Prime Minister, pulling a page from Russian President Vladimir Putin's playbook. That's when Tankian became a key player in the longshot protest movement known as the Velvet Revolution that eventually forced Sargsyan to resign his post.
'A FUN REVOLUTION'
The story of the successful revolutionary movement depicted on-screen in "I Am Not Alone," begins with politician and former journalist Nikol Pashinyan, who walked 120 miles across the country to protest Sargsyan's power grab.
The former political prisoner turned opposition leader called his protest "My Step," and urged Armenians to take their own small steps to show support, like honking car horns, blocking public buses and breaking noise curfews. Tankian describes these tactics as decentralized civil disobedience.
"They spread out and created small mischief around the nation," Tankian said. "And they did it in a playful way, a cultural way, a fun way. It was a fun fucking revolotion. I've never heard of that, you know? So, I think there's a lot to learn here."
Even the mass protests looked more like street festivals, with music, folk dancing and barbecues in the middle of intersections. Pashinyan's protest looked like a longshot throughout. Only a few hundred demonstrators met him at the capital after his two-week trek.
"If you were to put odds on it, it would have never even cracked 1 percent up until hours before this happened," said one of the film's producers, Alec Mouhubian, also from L.A. "Armenia is this hopeless little post-Soviet country, landlocked, dependent on Russia's mercy, facing hostile neighbors. How can you expect a little country like that to be ready for democracy?"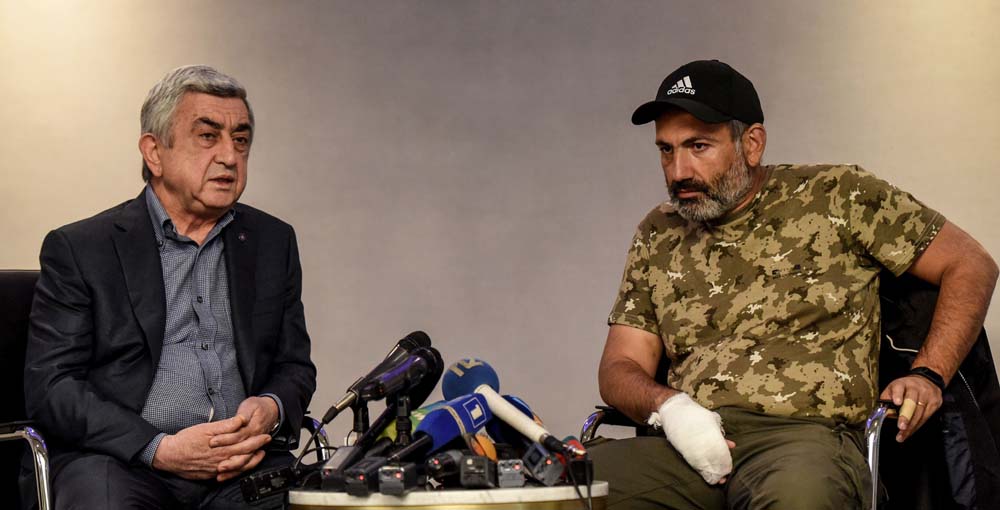 Armenian Prime Minister Serzh Sargysan (left) meets with anti-government protest leader Nikol Pashinyan (right) at the start of a televised meeting, that he left shortly after it began, in a Yerevan hotel on April 22, 2018. (Vano Shlamov/AFP via Getty Images)
But the movement kept picking up steam on social media, in part because of the involvement of people like Tankian, who supported the revolution via livestream. Some protest slogans and signs even mentioned Tankian by name, urging Prime Minister Serzh Sargsyan to "be more like the other Serj."
"Serj in particular, was a real symbol of this revolution," said Mouhibian. "Every time there was a protest in Armenia, they were all hoping for Serj Tankian to show up."
Tankian finally did, arriving in Armenia just in time to celebrate Sargsyan's unexpected resignation and witness parliament voted to make Nikol Pashinyan the country's new Prime Minister.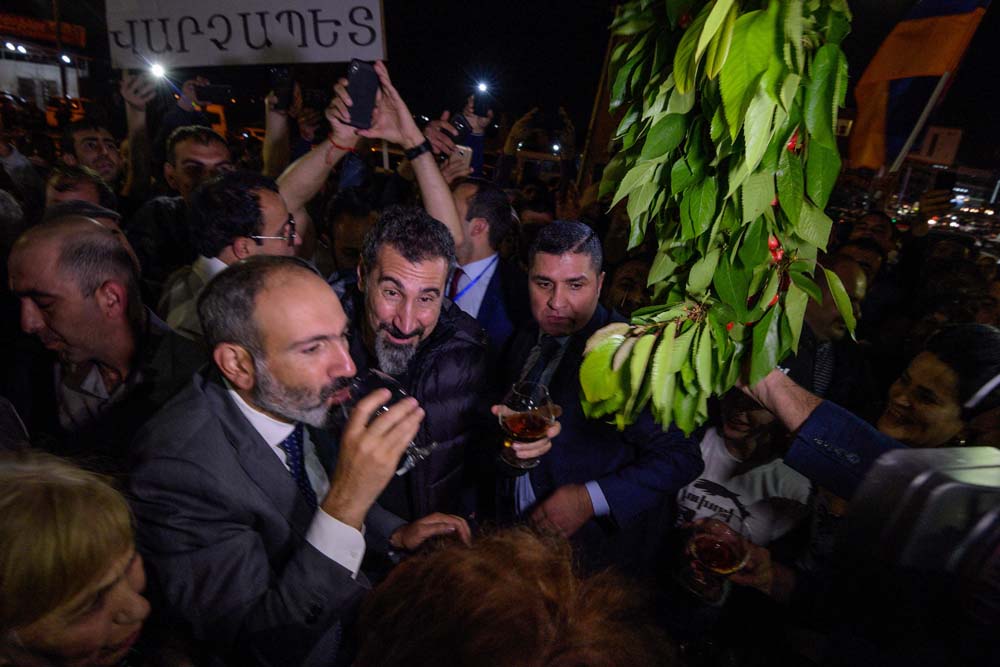 Armenian opposition leader Nikol Pashinyan and his supporters welcome Serj Tankian, the Armenian-American leader of the band System Of A Down, on his way to Yerevan's Republic Square on May 7, 2018. (Karen Minasyan/AFP via Getty Images)
"What stands out for me is flying into Yerevan from Los Angeles and seeing this incredible look on people's faces," Tankian told me. "It wasn't just happiness. It was elation. It was emancipation. It was like nothing I've ever seen, even playing huge concerts around the world. You only see this once in a lifetime, and that's if you happen to see a peaceful revolution."
DIASPORA DIGNITARY
One of those faces was Anna Pambukchyan, a media consultant from Yerevan who participated in the revolution. She told me Tankian helped bring international attention to their movement.
"His online support really mattered for a lot of young people," Pambukchyan said. "He was writing Facebook posts raising awareness on what was happening inside Armenia. In the very beginning, we were struggling to attract international attention to the issue. We were afraid it would end with protestors being beaten and sent home."
Pambukchyan remembers first hearing Tankian and System Of A Down more than a decade ago, as a student.
"Their music was really different from what we are used to," she said. "Armenia was not a country where rock was massively popular."
Today, she says Tankian and his band are household names in her home country.
"At this point, everyone knows them," Pambukchyan said. "Even my grandmother who lives in a remote town in Armenia which isn't connected to the youth culture in Yerevan––even she knows them. So, they are quite popular."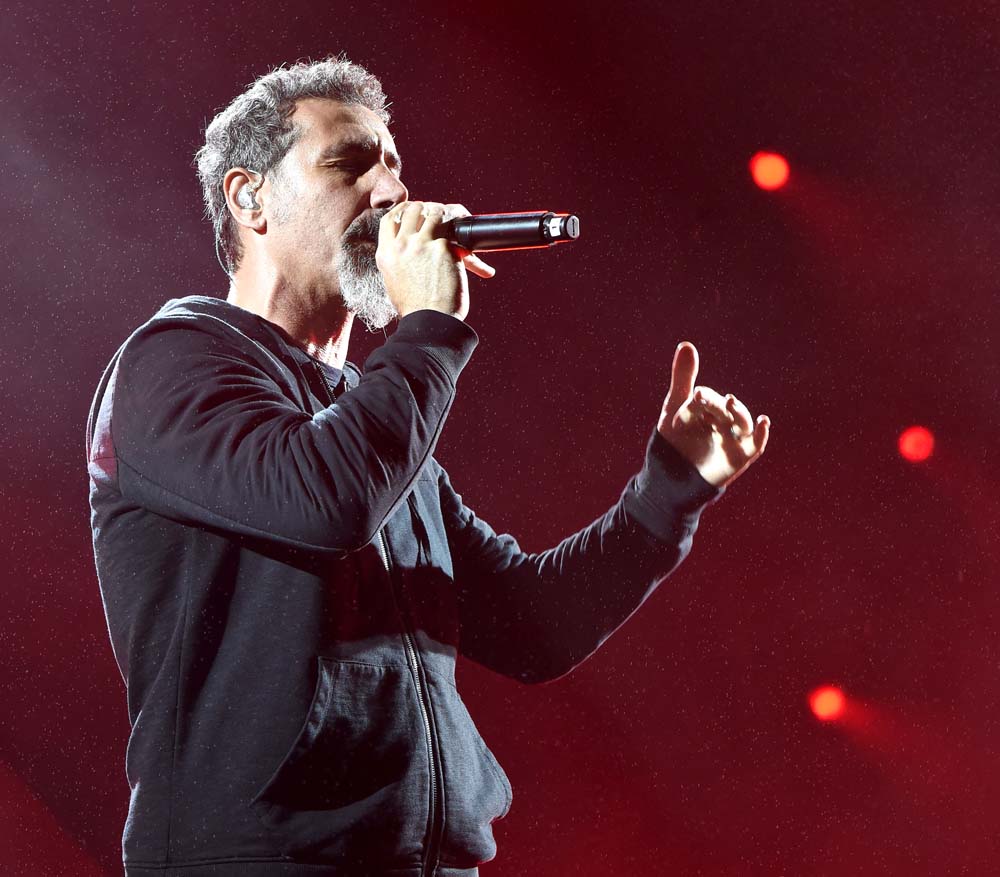 Serj Tankian of System Of A Down performs at Glen Helen Amphitheater on October 13, 2018 in San Bernardino. (Kevin Winter/Getty Images)
Tankian has also gained fans among the older generation of Armenians with more traditional-sounding Armenian songs, like "Bari Arakeel" and political anthems like "Artsakh." Last month, Tankian released Armenian-language ballad called "Hayastane" to raise money for coronavirus relief in Armenia. The song's lyrics were written by Prime Minister Nikol Pashinyan.
She says the singer stands out from most Armenian Americans, who typically aren't invested in Armenia's political future.
"Armenia is like Disneyland for many Armenian diaspora members,' said Pambukchyan. "They come to Armenia once a year. They like the monasteries and ancient sites. Most of them are interested in Armenia's past. But with Serj, it's completely different. He sees Armenia as a country, and as a society, which is developing."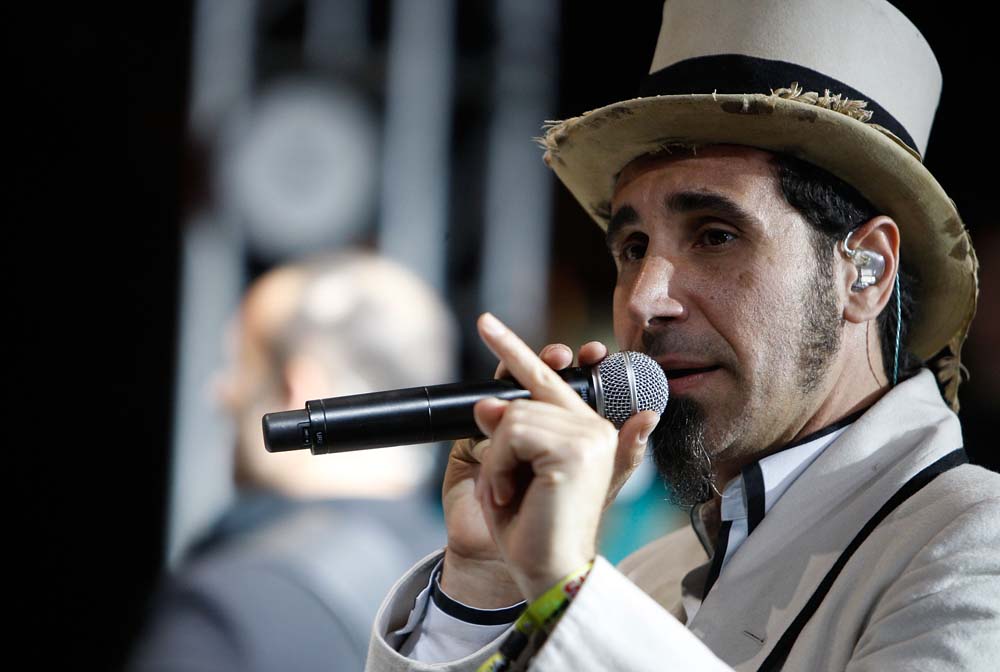 Musician Serj Tankian performs at KROQ's Almost Acoustic Christmas at the Gibson Amphitheater on Dec. 8, 2007 in Los Angeles. (Kevin Winter/Getty Images)
Tankian has become an important bridge between the small country and its large Western diaspora.
"The thing that has made Serj unique is that unlike other diaspora dignitaries, he has been outspoken for over a decade about the political, social, economic situation," said Salphi Ghazarian, director of USC's Institute of Armenian Studies. "Armenian influencers traditionally stay away from politics. Serj has not feared losing access and has taken the time to become informed and then given himself the right to speak."
But the musician says he didn't set out to be a political influencer.
"I just did it because I can't help myself," Tankian told me. "Truth is the truth, it's got to come out. And if it bothers you, you've got to talk about it."
Even if people don't want to hear it. When Tankian uses his platform to talk about global injustice, he says some fans tell him to stay in his lane.
"My favorite always being, online, 'Shut the fuck up and write another System record,'" Tankian said. "That's always the top one."
But Tankian argues his music has always been political, in part because of the band's Armenian American identity. He says if you're asking him to avoid politics, you must have never really listened to a System Of A Down record.
Aaron Schrank covers religion, international affairs and the Southern California diaspora under a grant from the Henry Luce Foundation and with support from USC's Annenberg School of Journalism.