This LA Human Rights Lawyer And Restaurateur Is Fighting For Immigrants and Refugees
Kim Luu-Ng's two careers are inspired by her Vietnamese family's refugee experience.
Published June 22, 2020
When Kim Luu-Ng isn't preparing asylum applications or representing torture survivors in immigration court, she keeps busy running one of the most celebrated restaurants in Los Angeles. As a human rights lawyer and co-owner of Southeast Asian restaurant Cassia, Luu-Ng balances two stressful careers, but it's the legal work that keeps her up at night.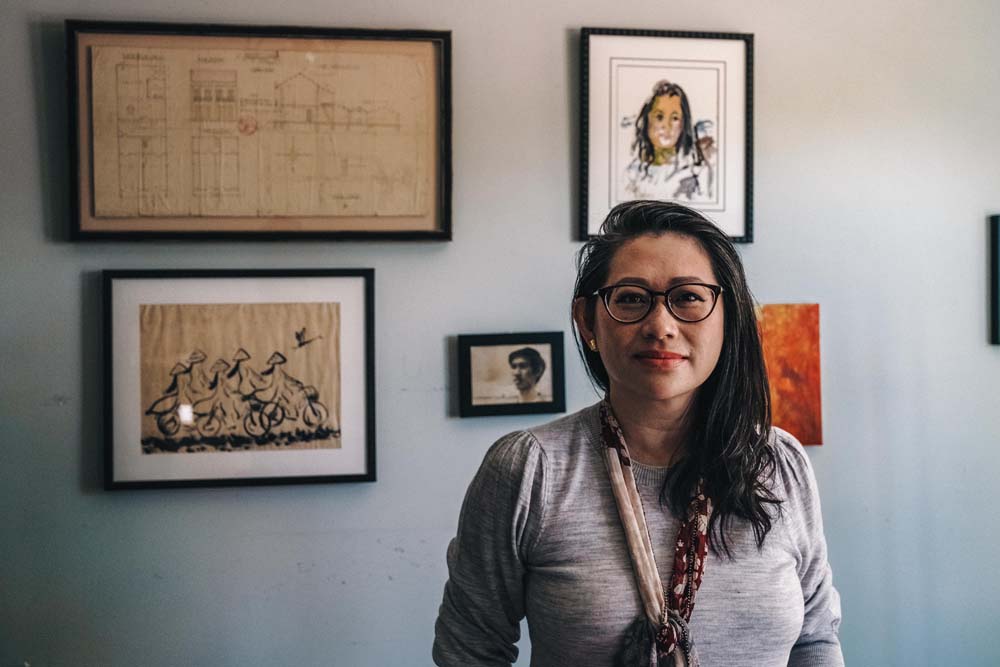 Human rights lawyer Kim Luu-Ng in front of a wall in her Alhambra home displaying art and blueprints from her childhood home to honor her family's roots in Vietnam. (Chava Sanchez/LAist)
"At the end of the day, the restaurant feeds people," Luu-Ng told me on a FaceTime call from her home in Alhambra. "With my legal work, when I fail, someone will most certainly lose their life. So that pressure is immense, and it pushes me to be the best."
Luu-Ng, a boat refugee from Vietnam, runs a boutique law firm called KLN Firm PC, focused on family, citizenship, deportation and humanitarian immigration law, specializing in state-sponsored persecution and torture, domestic violence and human trafficking. She has represented political prisoners extracted by the U.S. State Department in U.S. asylum cases, including exiled Vietnamese Christian pastor Nguyen Cong Chinh, who sought refuge in Southern California in 2017. Luu-Ng, 42, does much of this high-profile work pro bono. Most cases are referred to her by human rights organizations she's worked with over the past decade.
"They know I'm not going to say no, even if it comes at a very high personal cost," Luu-Ng said. "This is my life's work. It's all tied to my refugee experience and the fact that I am not supposed to be alive."
REFUGEE STORY: 'IN EVERY CELL OF MY BODY'
Luu-Ng's father, Hai Vinh Luu, was conscripted into the South Vietnamese Army at age 17. While serving, he stepped on a landmine, but it didn't detonate. Luu was captured and tortured, Luu-Ng said, but her father never spoke much about it. Luu-Ng says her father fought in the Vietnam War for one year, but the battle lasted throughout his life.
Saigon fell in 1975. Four years later — just a few months after Luu-Ng's younger sister was born — her parents decided to escape the country on a fishing boat with 200 others. Luu-Ng's mother's milk dried up on the 5-day journey to Hong Kong, where Luu-Ng's baby sister, suffering from malnutrition, was taken away by local authorities. The family lost track of her for months before she was returned plump and healthy. They lived in a Hong Kong refugee camp for nearly a year before being told they were headed to America as refugees.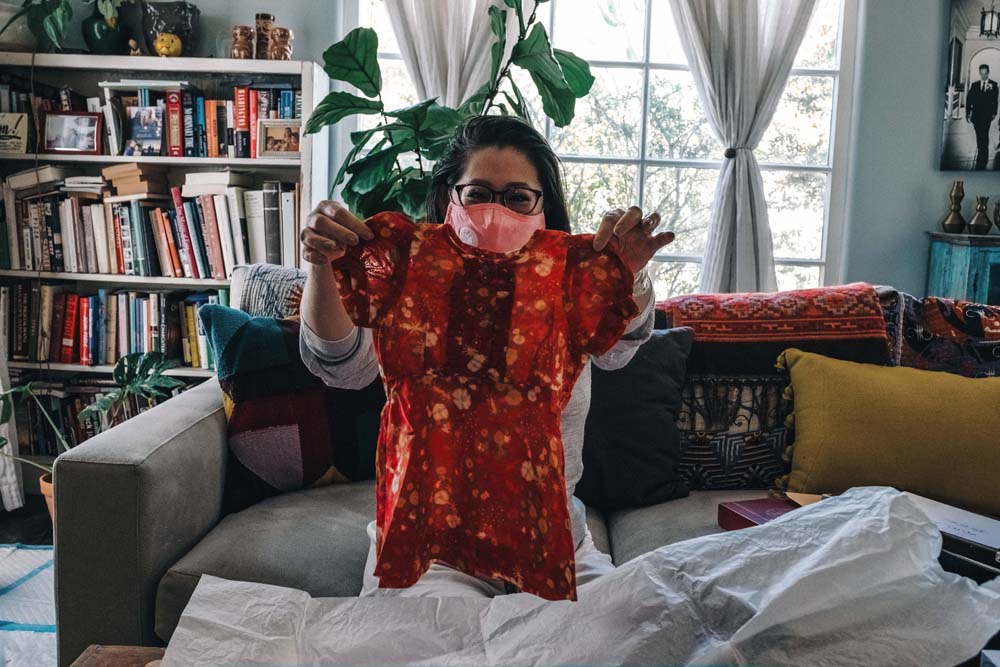 Luu-Ng holds the dress she was wearing, as a toddler, when her family escaped Vietnam by boat. (Chava Sanchez/LAist)
"That was a very, very difficult time and, even though I don't remember it, it's in every cell of my body," Luu-Ng said.
Luu-Ng's first memories are of snow-covered Louisville, Kentucky, at age 4. A Catholic family there sponsored hers and encouraged them to convert to Catholicism. Most of the refugee assistance was tied to church affiliation, which didn't sit well with Luu-Ng's Buddhist parents.
"We had already lost our country, lost everything, and were not about to lose our religion," Luu-Ng said.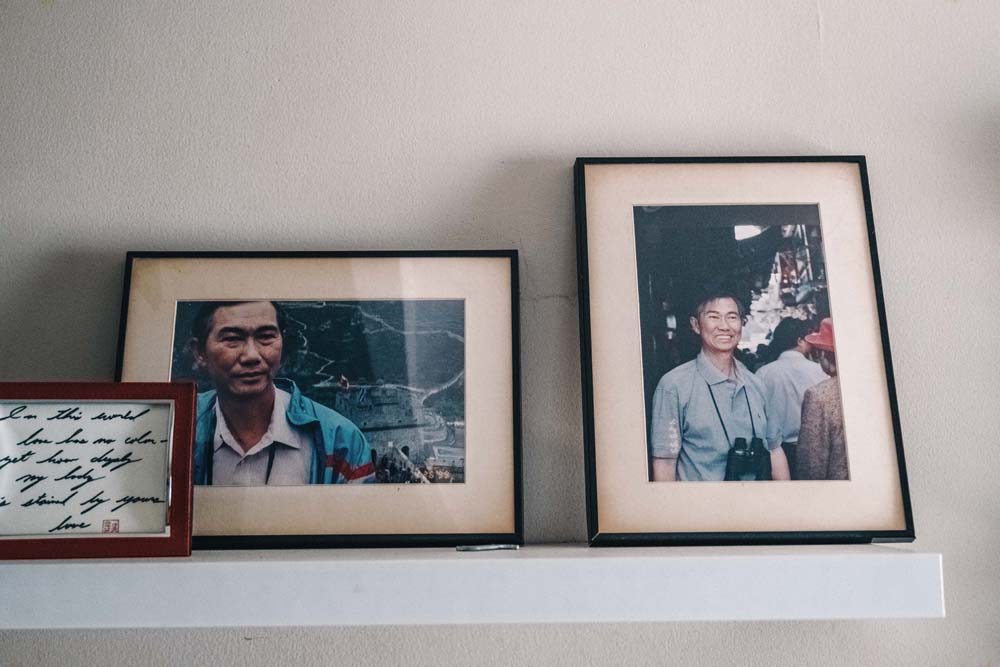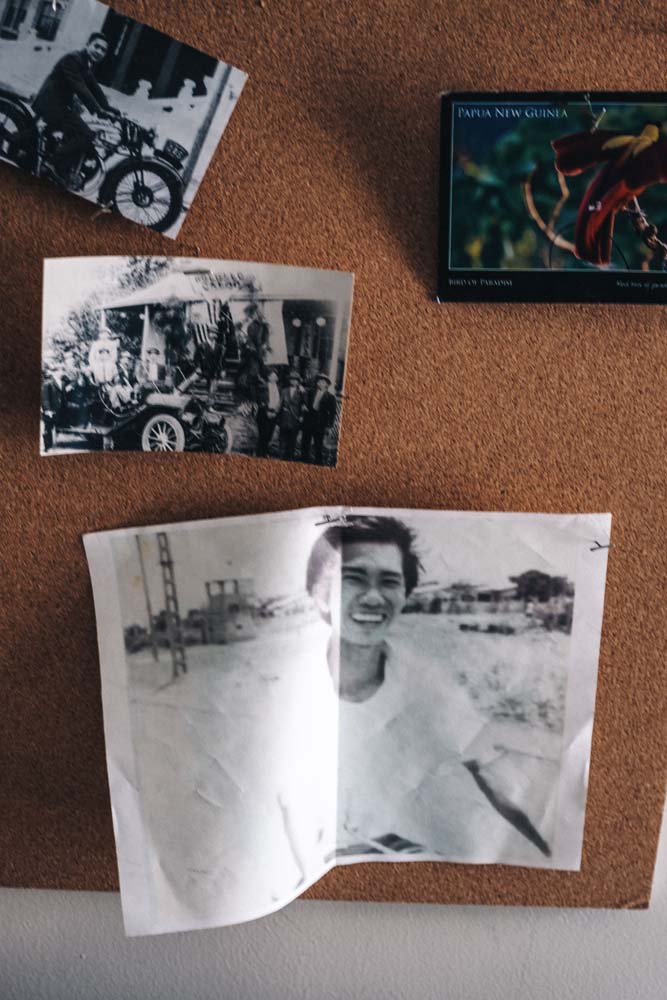 Photos of Luu-Ng's late father, Hai Vinh Luu, at her home in Alhambra. (Chava Sanchez/LAist)
In 1982, the family hopped on a Greyhound Bus bound for L.A. and became some of the first Vietnamese refugee families to settle in Echo Park. They connected with other Vietnamese at a Buddhist Temple in Koreatown. Luu-Ng's mother, an expert cook, found Vietnamese ingredients wherever she could. Luu-Ng's father worked for years as a social worker with the California Department of Child and Family Services.
Both of Luu-Ng's parents died young, of rare cancers. She doesn't have proof, but Luu-Ng believes their illnesses were caused by chemical warfare in Vietnam. She can't go back and save her parents, but Luu-Ng spends her days assisting people facing similar challenges.
"Even after all these years, the trauma and the hurt that came out of that war still lives with us," Luu-Ng told me, an old photo of her father on the wall behind her.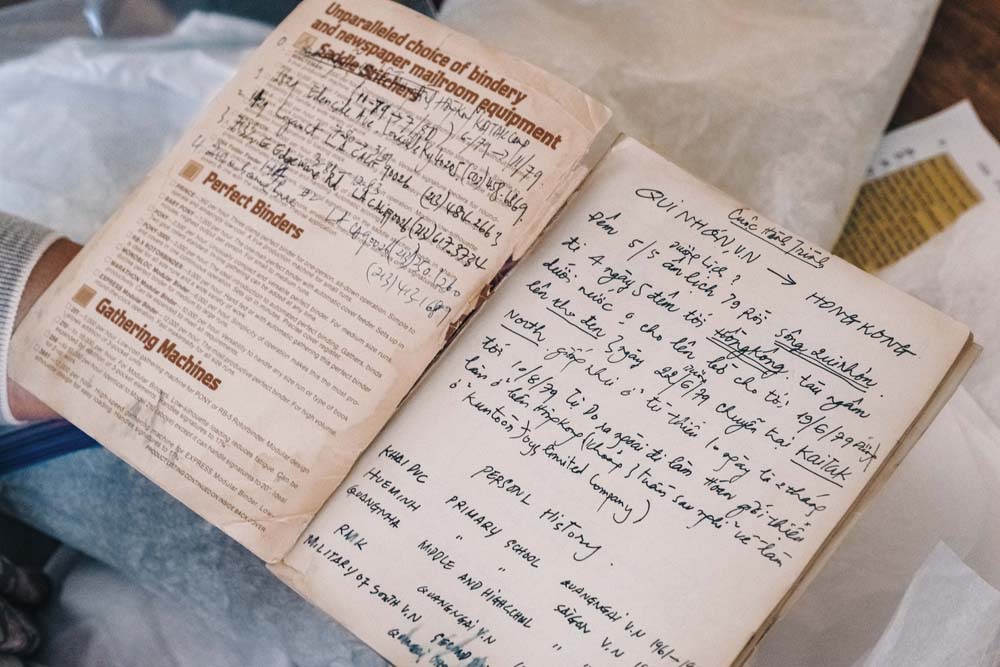 Handwritten journal pages from Luu-Ng's late father. (Chava Sanchez/LAist)
PUBLIC SERVICE: 'KEENLY AWARE'
After graduating from USC and law school at the University of Pittsburgh, Luu-Ng went to work for Reed Smith, a big corporate law firm with more than 1,000 attorneys. She felt out of place as the firm's only Vietnamese associate at the time.
"It was a very lonely experience," Luu-Ng said. "But there was just so much pressure coming from a very poor family."
What Luu-Ng really wanted was to help people, but she felt the pressure to keep a high-paying job out of deep respect for her refugee parents' struggles. Then, just a few days before his 2007 death, Luu-Ng's father encouraged her to pursue public service, like him. With her father's blessing, Luu-Ng went to work at the Legal Aid Foundation of Los Angeles, or LAFLA, a non-profit that provides free legal services to low-income Angelenos.
Luu-Ng began working in LAFLA's immigration unit, which sent her inside the immigrant detention center on San Pedro's Terminal Island to provide free consultation and legal services to detained immigrants.
"Kim, up until that time, had not had extensive immigration experience, but from the interview, I could tell that she had solid legal skills and a deep-rooted desire to help immigrants," said Michael Ortiz, Luu-Ng's LAFLA supervisor.
The project, funded by the Department of Justice's Executive Office for Immigration Review, came to an abrupt end when federal immigration authorities closed the Terminal Island immigrant detention center in 2014.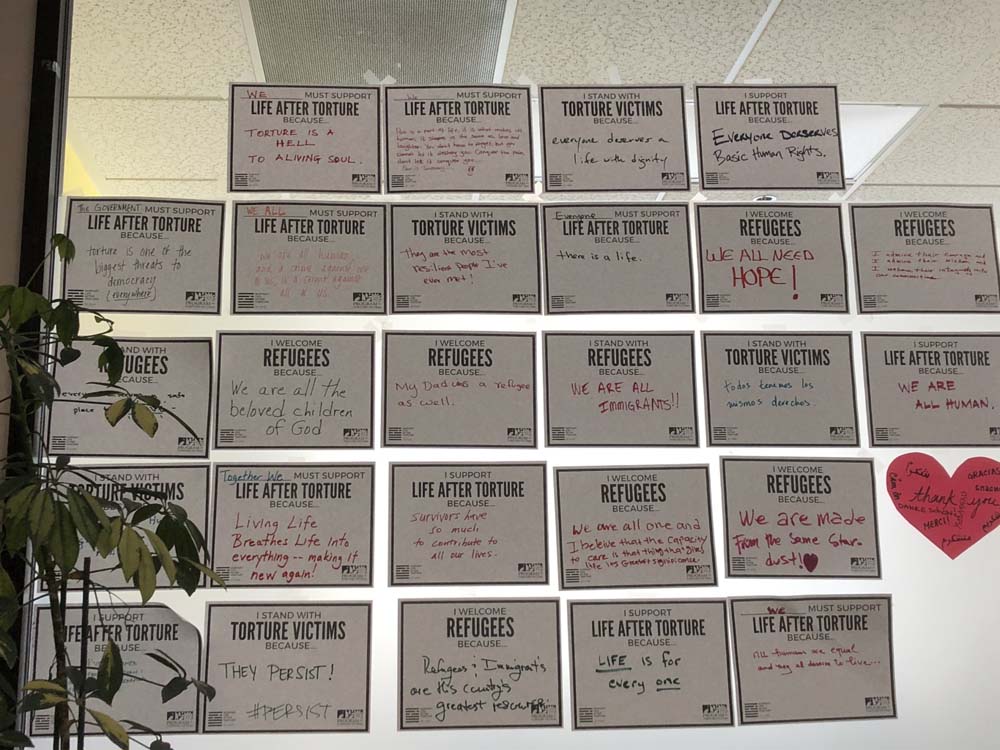 Art hung on the walls at the Program for Torture Victims in Koreatown, Los Angeles. (Aaron Schrank/LAist)
At LAFLA, Luu-Ng also represented victims of torture in deportation and other immigration proceedings through a project funded by the Office of Refugee Resettlement and ​​​the UN Voluntary Fund for Victims of Torture. She began working closely with case workers at the L.A.-based Program for Torture Victims and served as chair of the Refugee Forum of Los Angeles.
THE RESTAURANT BUSINESS: 'COLONIZING THE COLONIZERS'
Luu-Ng's husband, Bryant Ng, grew up working in his parents' Chinese-American restaurant in Northridge. He graduated from UCLA and worked as a biotech consultant before enrolling at the Cordon Bleu in Paris. He and Luu-Ng met just before Ng started working as the opening chef at Pizzeria Mozza.
In 2011, the couple opened their first restaurant together, The Spice Table. The menu drew from Ng's Singaporean and Chinese background. Luu-Ng was very involved in the day-to-day operations. She would leave her human-rights lawyer job at the end of the day to spend nights serving, hostessing and bussing tables.
The popular Little Tokyo spot was closed in 2013, when L.A. County Metropolitan Transit Authority took over the land to build a new Metro stop.
In 2015, the pair launched their second restaurant, Cassia, which they describe as a "Southeast Asian Brassiere." The popular eatery explores French cooking and the circular culinary relationship between France and Vietnam brought on by colonization. In his review of Cassia, the late restaurant critic Jonathan Gold described Cassia's culinary approach as "colonizing the colonizers." The menu draws on Luu-Ng's family history, even using some of Luu-Ng's mother's recipes.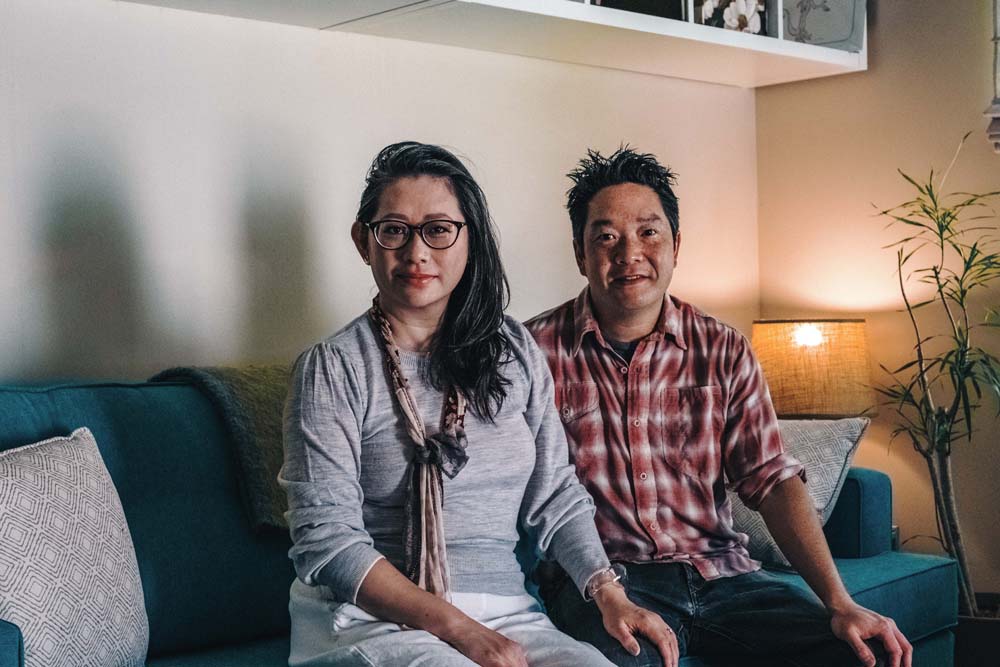 Kim Luu-Ng and Bryant Ng, co-owners of Santa Monica restaurant Cassia, pose in their Alhambra home. (Chava Sanchez/LAist)
Ng says a larger restaurant with more employees means his wife has been able to take a step back from working in food service.
"Which is great, since it gives her more time to focus on her humanitarian legal work," Ng said. "Which, let's be honest, is way more important than cooking food."
In 2016, Ng and Luu-Ng formed Los Angeles Chefs for Human Rights, which has since raised more than $500,000 for the Program for Torture Victims and non-profit The People Concern. This year's June 27 event will support The People Concern in feeding and housing homeless people during the coronavirus pandemic.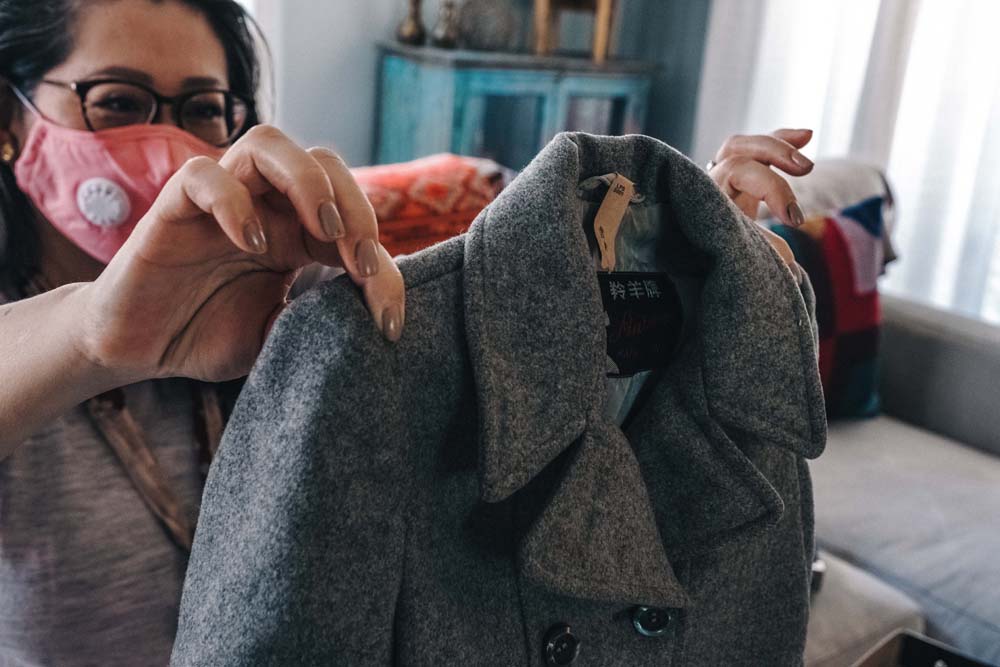 Kim Luu-Ng displays a coat her father bought her when the family left Vietnam by boat and arrived in Hong Kong as refugees. (Chava Sanchez/LAist)
LOOKING AHEAD: 'THESE ARE DECENT PEOPLE'
Luu-Ng founded her own private practice in 2014, but has devoted a substantial part of her time to representing indigent immigrants and asylum seekers.
"That work has never stopped," Luu-Ng said. "I basically went out on my own, so that I could do all that work without getting paid, which was not the wisest career-move."
Luu-Ng also mentors big firm lawyers on immigration matters. She says the coronavirus pandemic and the closure of immigration courts and agencies has further complicated things for her immigrant clients.
"There are a lot of clients who are in limbo, much more so than before, because governments are shut down and we're at a standstill," Luu-Ng said. "But the work continues, because the government continues to deport people." Luu-Ng says she worked tirelessly to provide for her family only to learn that happiness can't be found in money, but in living out one's values.
"Every breath that I have left, I will dedicate to saving the lives of individuals who have been persecuted and tortured in order to find freedom," Luu-Ng said. "These are decent people who have been physically tortured, simply because of who they are and what their beliefs are. So everything that I do comes from that."
Aaron Schrank covers religion, international affairs and the Southern California diaspora under a grant from the Henry Luce Foundation and with support from USC's Annenberg School of Journalism.