From Tehran to Tehrangeles, Homa Sarshar Has A Voice
The Iranian-American journalist has more than 50 years' experience reporting on Iran, Southern California and the connections between the two places.
Published June 22, 2020
Recent tensions between Iran and the U.S. have left many Iranian Americans on edge. Perhaps no one understands that better than Homa Sarshar.
The exiled Persian journalist, activist and author has more than 50 years' experience crafting stories about Iran, Southern California and the relationship between the two.
As a patron of the arts, she's become a leading advocate for Southern California's Persian diaspora — the largest concentration of Iranian Americans outside of Iran.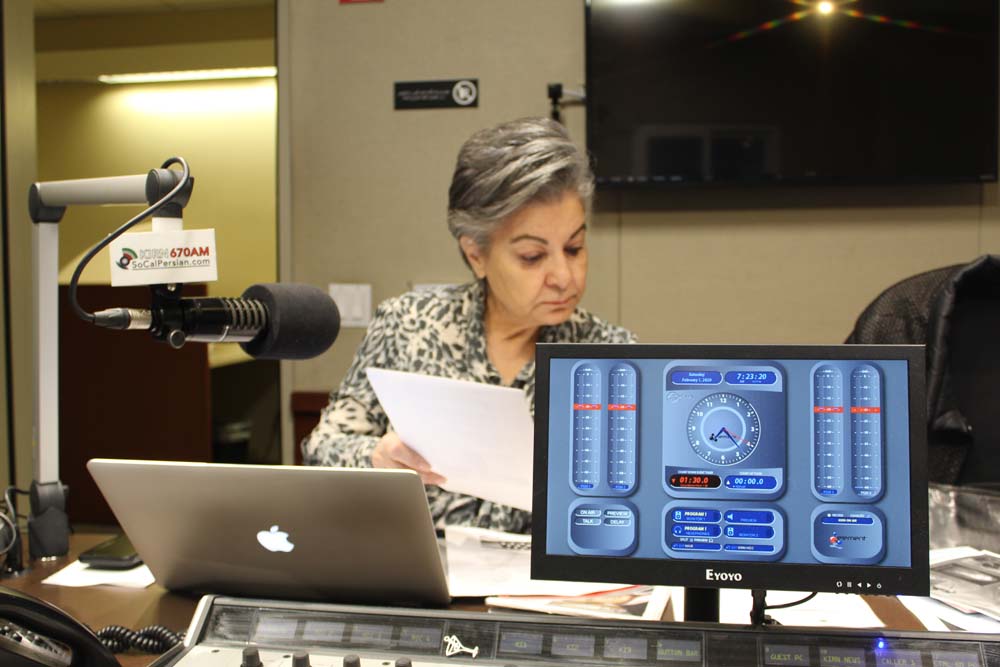 Homa Sarshar prepares notes prior to the broadcast of her weekly Persian-language radio show, "Breakfast with Homa Sarshar," on Southern California's KIRN Radio Iran. (Aaron Schrank/LAist
ON THE AIR
Sarshar's show is heard by tens of thousands every week on L.A.'s leading Persian language radio station, 670 AM Radio Iran — and online.
The veteran journalist says her goal is to be inclusive. With the community divided on Iran's future and on U.S. policy towards the homeland, balanced journalism is in especially high demand.
"A fair journalist. This is what I was driving all my life to be," Homa said one Saturday morning in February, as she prepped her weekly newsmagazine 'Breakfast with Homa Sarshar.' Because I think one of the most important reasons for the revolution to happen in Iran was that the voice of opposition was shut out."
She posts all of her shows on the cloud-based messaging service Telegram, so people back in Iran can listen, too.
"It's a one-woman show," Homa said with a chuckle. "I do all of it myself."
Listen to the radio version of this story.
She reviewed the day's headlines: coronavirus, a local Kobe Bryant memorial and the Trump administration's proposed resolution to the Israeli–Palestinian conflict. And, of course, news from Iran.
There's been a lot going on since the U.S. assassination of Iranian General Qassem Soleimani earlier this year: Iranian-born travelers detained, Iranian students deported and U.S. sanctions that she said hurt Iranians and Iranian Americans.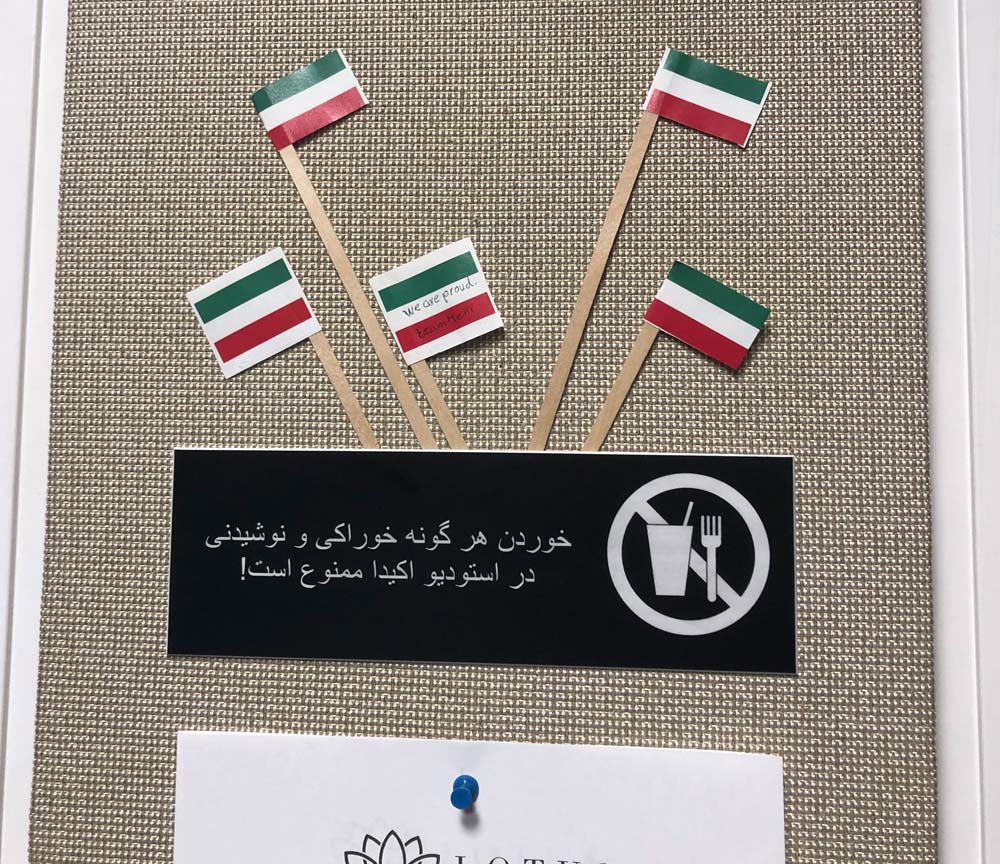 The bulletin board in Homa Sarshar's radio control room at KIRN Radio Iran in Universal City displays flags of Iran and a warning not to eat or drink in the studio. (Aaron Schrank/LAist)
"Living here in Los Angeles, living in the U.S. as a diaspora community, means that we are against the regime," Sarshar said. "It's political. Our presence here is political because we are against the government. Everybody wants this regime to go, but the way that we want this regime to go is different."
The divide is especially clear when it comes to the U.S. policy approach.
"Recently, I feel a big gap between the community," Sarshar said. "Really, since Trump. We have a lot of people that are for Trump, and a lot that are against Trump. This division, it's the first time it's happened."
"Breakfast with Homa Sarshar" isn't just hard news. This morning, collaborator Mandana Zandian is preparing her regular segment on contemporary Persian poetry.
"It's very important because most of the poets from my generation don't have any media to be introduced in, or to even recite their poetry," said Zandian. "So many people immigrated from Iran after the revolution, so we are very scattered here and there. I try to find young poets and have them recite their poems."
The show has an audio archive of poems going back more than a decade.
Zandian is a cancer doctor at Cedars-Sinai and a poet. She said Sarshar is dedicated to giving voice to young exiled artists in L.A.'s Persian community.
"Which is very valuable support, because like — I'm one of them," said Zandian. "When I came from Iran, of course I didn't know anyone. I didn't know how to continue my Persian literature goals, and she helps people doing that. Almost no one else does for the Persian community what she does."
Sarshar has helped numerous Persian authors, artists and musicians find audiences in Southern California, said Touraj Daryaee, who directs the Center for Persian Studies and Culture at the University of California-Irvine.
"She's been really behind many of these people," Daryaee said. "Remember, in Iran, there is a vibrant artistic and cultural scene and lots of galleries. But what about the Iranian artists who are in the U.S.? They're really in an ocean of international art. It can be really difficult to get noticed. Homa has been instrumental in promoting them."
When the Center books events, Daryaee says it's often with Sarshar's backing or suggestion. Sometimes publicly, sometimes silently.
THE REVOLUTION
Sarshar tells me she found her voice early, because she was raised by strong working women in Tehran. She describes herself as a life-long feminist.
"I was brought up in a family that gave me this strength from my childhood to be somebody and to have a message," said Sarshar. "At the time that I started to be a journalist, there were maybe ten women journalists in my country. Normally a Jewish woman wouldn't work, unless she was needy. Working because you like working was something that would raise a lot of eyebrows."
Sarshar began in journalism at age 18. She speaks French, and this helped her land a job as a French translator for weekly Persian women's magazine, Zan-e Rooz. She went on to become a reporter and columnist. The magazine dealt with women's issues, but she said it wasn't especially political until just before the revolution.
This is what I was driving all my life to be...I think one of the most important reasons for the revolution to happen in Iran was that the voice of opposition was shut out. — Homa Sarshar

"We started to teach and inform Iranian women about their rights," Sarshar said. "Going around and following all of the limitations and barriers to equal rights, we became like activists for human rights."
She then worked at at Iranian daily newspaper, Kayhan, as a reporter and later editor of the paper's family section. She also became a producer, director, and talk show host for National Iranian Radio & Television, the Iranian state broadcaster.
Homa Sarshar met and married her husband, Nejat Sarshar, while both were college students in Tehran. He's been her career's biggest supporter ever since.
"After I had two sons, he would babysit the kids when I go to university at night," Sarshar said.
The family fled Tehran in 1978, two months before the revolution. Sarshar had been fired from her newspaper and state TV jobs, and her husband fired from his post at the the local department of water and power.
"We had a sense that something was happening," she said. "So we decided to get out of the country and wait until everything settled down — and this never happened," Sarshar said.
'WE WANTED DEMOCRACY'
When Sarshar moved her family to Los Angeles, she spoke no English, but soon enrolled in journalism school at the University of Southern California, where she learned the language alongside new media skills.
"That was a good excuse to get my head out of what was going on in my country," Sarshar said. "And after I got my masters degree, I was 100% sure that I would never go back to my country. So I started working."
She's been producing Persian-language news ever since.
When she's not on-air, Homa's often planning the program from the 15th floor penthouse in Westwood that she shares with her husband, who's had success in Los Angeles as a real estate developer and agent. It's a beautiful space filled with Persian art and sculpture, ornate teapots and baby playmats to keep her new granddaughter busy.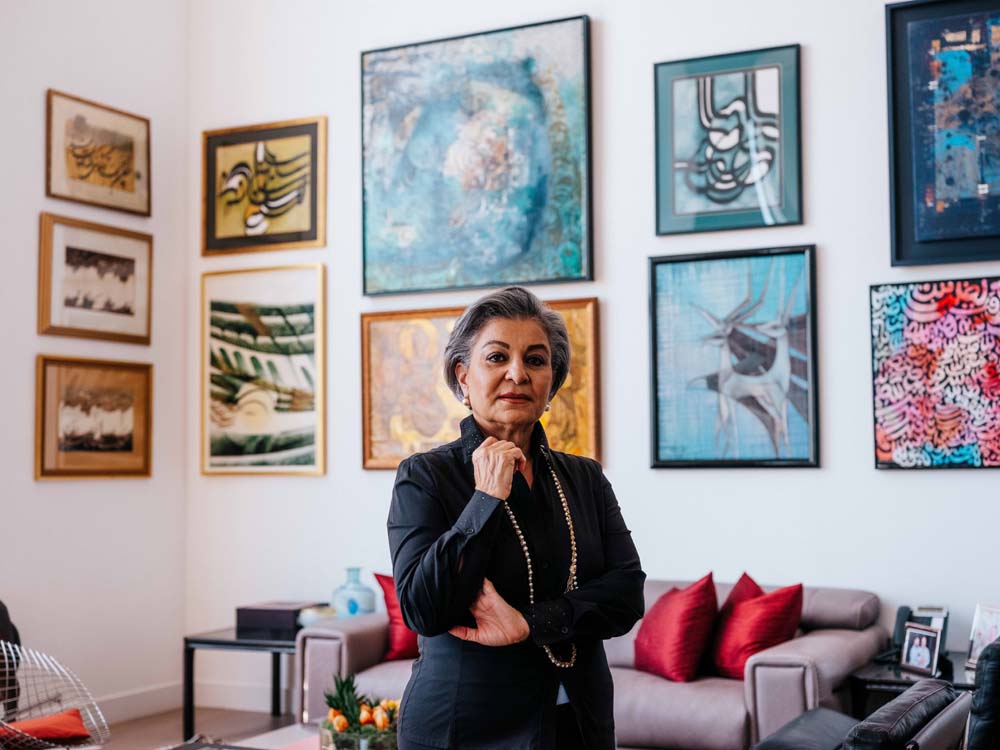 Homa Sarshar poses inside her Westwood penthouse in June 2020. (Chava Sanchez/LAist)
As a journalist who fled the Islamic Republic of Iran, Sarshar said she finds President Trump's attacks on U.S. media disheartening.
"Sometimes I sit in front of the TV and I watch him talking and I say to myself, I cannot believe that we flew out of the country because we wanted democracy and equality, and we don't see it here," Sarshar said. "The 'fake news drama that has started, which I was not expecting here in the U.S., is an insult to journalism and to my career, which I love very much."
Sarshar founded the Center for Iranian Jewish Oral History as a way of keeping alive the history of some of those who left. She's recorded the personal stories of dozens of people who, like her, built new lives for themselves outside of Iran.
She published her own L.A. memoir almost 30 years ago, called "In the Back Alleys of Exile."
Sarshar has also served as a board member for the Iranian Women Studies Foundation and an advisor to Human Rights Watch. She created a grant program to help exiled Iranian artists, and regularly sponsors exhibitions by Iranian-born artists.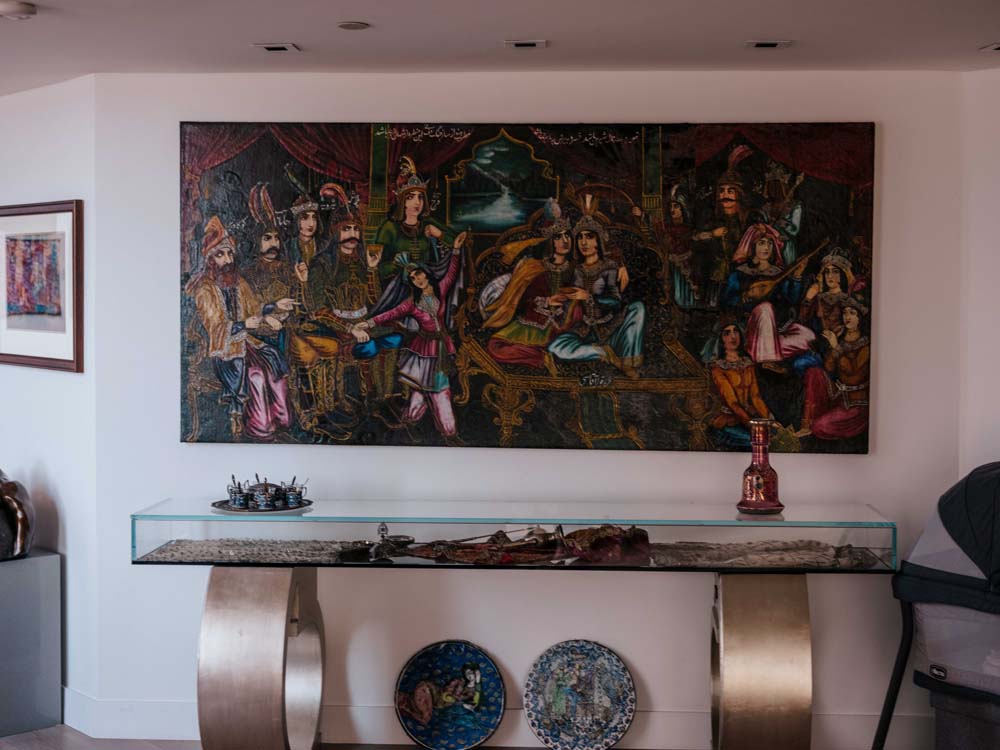 Homa Sarshar's apartment in Westwood is filled with Persian art and sculpture. (Chava Sanchez/LAist)
One particular piece of art hanging on Sarshar's penthouse wall stands out, because it looks at least a few centuries newer than the rest. The painting by an Iranian-born artist living in Thousand Oaks includes an iconic image of an Iranian woman and of Marilyn Monroe — and a citizenship card.
"For him, this is the passage from East to West and becoming American," Sarshar said.
PATRON OF THE ARTS
She was there to see a theatrical performance about famed 13th century Persian poet Rumi's relationship with his guru, Shams Tabrizi.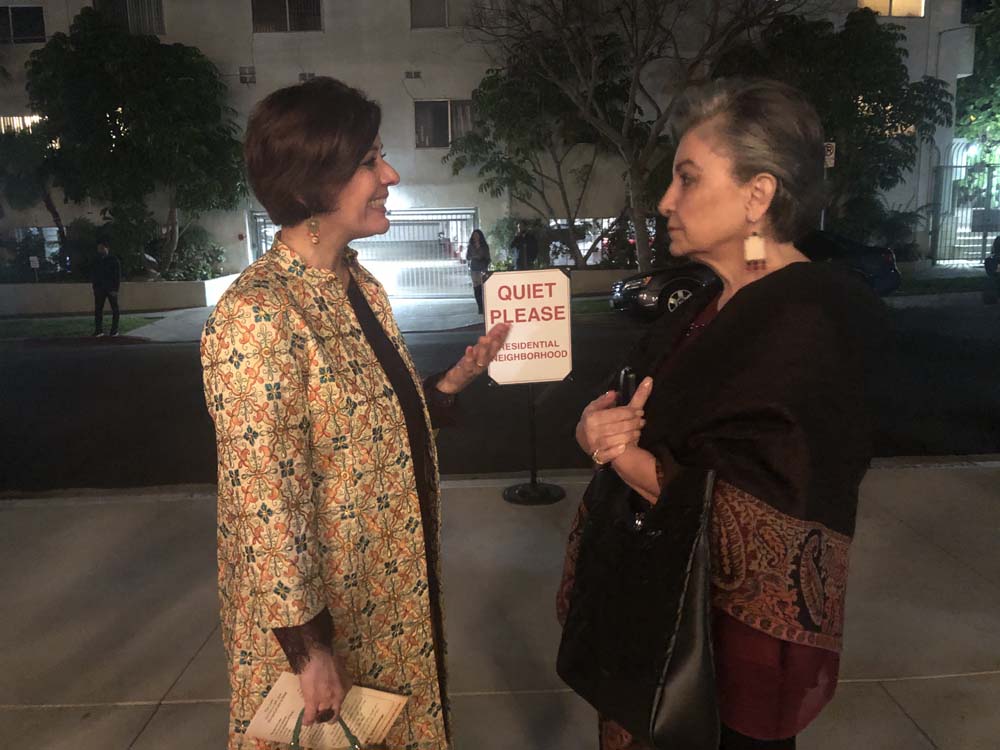 Homa Sarshar (right) and her radio show collaborator, Mandana Zandian (left), outside the Wilshire Ebell Theatre in Los Angeles. Sarshar lent her voice to narration for a stage production earlier this year. (Aaron Schrank/LAist)
Sarshar first met the play's producer, musician Ali Pajooheshgar, when he was teaching her to play a large Persian frame drum called the daf. She lent her voice to the production as a narrator.
Her husband, Nejat, is along for the occasion. His successful career in real estate has empowered her to continue doing the work she does as a volunteer, she said.
"I haven't made a penny in these 40 years," Homa said. "All my work was volunteer work. And I'm working for the station pro bono."
Nejat prefers to speak in Farsi, but he shared a few words in English when asked what he thinks of his partner of 53 years.
"She's perfect," he said. "Before I met her, I didn't want to get married. When I saw her, I changed my mind."
As the audience took their seats, Homa's unmistakable voice echoed over the loudspeaker, asking people to turn off their phones: "The story of love will unfold in the next few moments."
Speaking before the show, Sarshar said she thinks a lot about what's ahead for Iran, but she knows it's not up to exiles like her to decide.
"I hope that change comes from the inside," Sarshar said. "Not from an American president or the European Union. We have been away from that country for 40 years. If I go back, I don't know if I really know the people, if we speak the same language anymore. I don't have the right to decide for them."
Aaron Schrank covers religion, international affairs and the Southern California diaspora under a grant from the Henry Luce Foundation and with support from USC's Annenberg School of Journalism.